Bike racks are very convenient, especially for bicycle enthusiasts who spend a lot of time traveling with their bikes. Often enough, however, bike racks—especially hitch-mounted racks—tend to shift back and forth noticeably.
Are Bike Racks Supposed To Wobble And Sway?
Almost anything connected to a hitch is going to wobble and sway. Hitch-mounted bike racks are no exception. Roof racks and trunk racks shouldn't shift nearly as much, but there's a solution for each category. 
Hitch-mounted racks are the most notorious when it comes to sway and wobble. Fortunately, trunk-mount and roof racks don't fall into the same negative category until they are under the burden of heavy mountain bikes.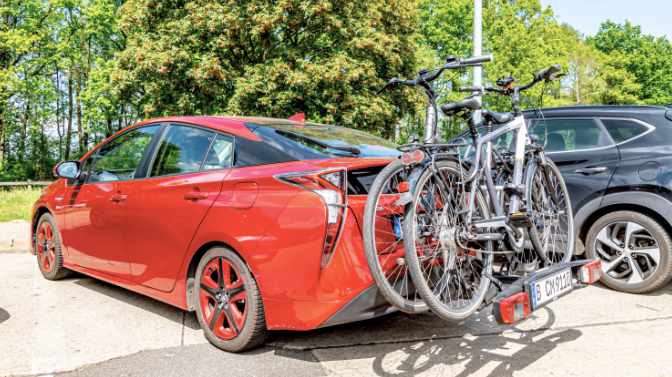 Even if this doesn't sound like a big problem, the swaying and wobbling can affect your car's gas mileage, or even damage your vehicle.
How Do You Secure A Bike On A Roof-Mounted Bike Rack?
The best methods are to secure it with a tension bar or use as many ratchet straps as needed. Thankfully, a superior solution is potentially on the way.
Under normal circumstances, roof racks are the most stable of the bunch, and you wouldn't be wrong for believing that. However, place a top-heavy load on it, especially with multiple bikes, and it can quickly become an area of concern.
Many bike racks that secure to a roof rack utilize "sway bars" to help stabilize the bike. Unfortunately, many are designed to line up with the front wheel and attach adjacent with the wheel, without any side-to-side stabilization. 
BikeBar: Still in the concept phase, the BikeBar provides a lateral method of stabilization lacking from most traditional bike bars. The concept belongs to Kris Pepper, and his Kickstarter page is ongoing.
ALLEN Tension Bar Bicycle Cross-Bar Adaptor: The Allen Tension Bar wasn't designed for lateral stabilization on a roof rack. However, it's easy to see how well it would work as a substitute for the BikeBar concept.
Ratchet Tie Down Straps: You're only other option is a set of ratchet straps to apply downward pressure on the bike, helping secure it to the roof and reducing—it won't eliminate—the amount of sway.
The BikeBar is an exciting concept, but until it reaches the point where it enters the manufacturing—something it may never do—tension bars and ratchet straps are your best bet for reducing wobble and sway from roof rack mounted bikes.
How Do You Secure A Bike On A Trunk-Mounted Bike Rack?
With a trunk-mounted bike rack, the seat tube is the focal point when securing it. So whether you use ratchet straps, ropes, rubber inner tubes, or year-old Laffy Taffy, it comes down to whatever works for you.
Trunk-mounted bike racks are not as concerning when it comes to their left and right motion, and it's more of an issue when swaying forward and backward, scratching the bike and car paint if the metal comes into contact frequently.
Good Old Fashioned Rope: For bikes stationed perpendicular to the trunk, tie a rope from the seat tube to the bike rack's frame, securing it tightly so that back and forth sway is minimized.
Cable Locks and Ratchet Tie Down Straps: Cable locks and ratchet tie-downs are great ways to secure the seat tube to the frame or to other bikes to prevent sway. 
SportRack Pursuit Anti-Sway Trunk Mount Bike Rack: This trunk-mounted bike rack was specifically designed to reduce sway with an anti-sway cradle and foam padding to protect both the bike and the vehicle.
Thule Gateway Pro 3: Designed for extra spacing between bikes, embedded, anti-sway cradles, and foam padding to reduce sway and protect the bikes and vehicle.
Trunk-mounts are generally the most affordable bike mounts out there. The only caveat is they could potentially damage the aesthetics of both the bike and the vehicle if they sway too much on the mount. 
How Do You Secure A Bike On A Hitch-Mounted Bike Rack?
Hitch-mounts are essentially metal on metal, and the best way to secure it is with more metal. So it's essential to get the tightest fit possible. To that, you need hitch clamps or anti-rattle devices like a pin kit.
Added weight extended from the rear of a vehicle is always going to have some degree of sway. Additional wear and tear between the hitch, mount, and hitch bolt will increase the amount of sway, and the entire bike rack may become shakier as a result.
Hitch Clamps: Hitch clamps are cheap, effective tools to help stabilize your bike rack along with anything else you happen to tow. Hitch clamps hook to the bike rack and hitch connection point, pressing the bike rack tongue flush with the inside of the hitch.
Anti-Wobble Hitch Stabilizers: These stabilizers work in a similar way to hitch clamps. The difference is they use four large bolts to clamp down on the attachment point.
Anti-Rattle Receiver Pins: Receiver pins work by replacing the original bolt with a far more efficient one, reducing rattle, sway, and wobble.
Bike Rack Support Straps: These work by securing the top-heavy portion of the bike rack to a central, stable foundation on your vehicle. This helps reduce wobble, though the left and right swaying may still be an issue.
Hitch-mounted bike racks are the most prone to sway and wobble, especially over time.
Hanging Or Platform Bike Racks: Which Ones Are More Stable?
Hanging bike racks have a lot going for them, but they're not as stable as platform bike racks and often require anti-sway features to keep them stable and under control. 
The framework design on platform bike racks allows for a more stable profile thanks to its weight and distribution. In addition, it's easier to load bikes on them because they're low profile. 
Stromberg Platform Style 4-Bike Carrier: This is a solidly built platform bike rack. Low-profile and built to last, it can hold up to four bikes with minimal sway.
Thule Apex XT Bike Hitch Rack: Another solid platform bike rack with built-in anti-sway cradles and ratcheting cradle straps.
Hollywood Racks Destination 2: An attachment cradle secures a bike frame that holds up to four bikes. It has an extremely solid build despite its lightweight.
BV 4-Bike Bicycle Hitch Mount Rack: The BV has a patented, anti-wobble feature designed to reduce sway and wobble between the bike rack and the hitch.
When it comes to wobble and sway, platform bike racks hold a distinct advantage over hanging bike racks. While hanging bike racks are lighter, easier to install, and more mobile, their loose configuration allows for more movement.
With the addition of hitch clamps, anti-rattle pins, stabilizers, or straps, a platform bike rack is by far the most stable type of bike rack. 
Final Word
Bike racks aren't supposed to wobble and sway, but the fact is, physics exists. So the best way to deal with it is by choosing products that reduce or eliminate it or choosing a bike rack specifically designed to counter sway and wobble. 
The ideal combination is a platform bike rack with an accompanying stabilizer, tightener, or pin. 
If that's not an option, you can always get creative with ratchet tie-down straps, ropes, cable locks, or anything else that is capable of tightening a bike rack against its frame.
The point is, there are plenty of budget-friendly options available on the market, so the price doesn't have to be an obstacle.
Related Articles
Sources
Fisher, S. (February 7, 2015). Bike Rumor. BikeBar Prevents Roof Rack Wobble Worries, Keeps Your Bike Stable