It's something I get asked all the time in a hushed voice "are bike shorts meant to be worn without underwear?
Are Bike Shorts Meant To Be Worn Without Underwear?
The answer is NO!, biking shorts are designed to wear without underwear. A good pair of biking shorts are designed to fit against your butt and private parts so you can experience the most comfortable and effective ride in the bike saddle.
Don't worry, you're not alone, most of us have no clue how to wear bike shorts when we're brand new to cycling. It can be weird to go "commando", especially, if you're used to wearing underwear every day.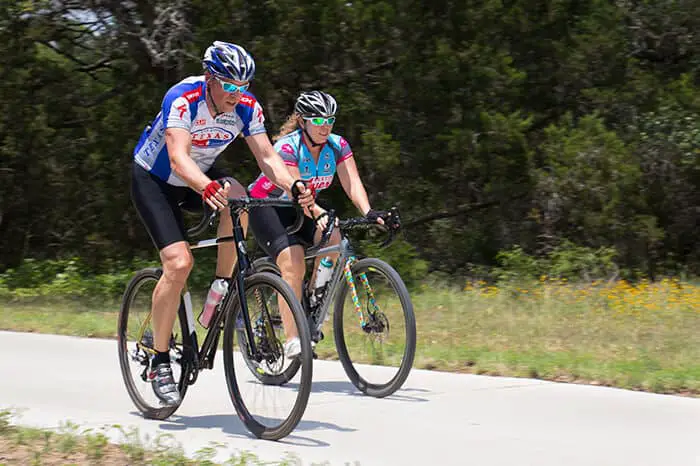 If you're commuting to work or riding short distances, it doesn't matter what you wear.
In this article, we'll discuss how bicycle shorts should be work plus a few other tips.
4 Reasons Not To Wear Underwear
Underwear Defeats The Purpose
The padded crotch is designed to alleviate pressure, protect against friction, and wick away moisture.
Underwear sits on top of the chamois padding removing or decreasing the protection it provides.
You Lose Protection
Biking shorts are designed to offer you the most comfortable and effective protection from the bike saddle.
The padded chamois fits your body perfectly so you don't feel all the bumps on the road.
Underwear can prevent the chamois from working the way it was intended to work, which can lead to skin irritations or saddle sores.
Designed By Great Companies
Biking shorts are designed by reputable companies that put their clothing through rigorous testing. They know what is comfortable and what isn't.
Many companies work closely with long time riders to get input for their clothing before they design it.
If you're wearing underwear because the chamois is not working anymore, you may need a new pair. You may also want to check out how to make your saddle more comfortable.
Cotton
Cotton underwear absorbs sweat, which keeps the fabric soaking wet. As your body gets hotter, you sweat more, which helps the body cool down.
But, is not moisture-wicking, and does not promote quick drying of sweat. This can result in chafing, yeast infections, saddle sores, and other bacterial infections.
Do You Wear Anything Over Bike Shorts?
While it's not necessary, some modest people have been known to wear shorts on top of their bike shorts.
If you do wear shorts on top, choose lightweight nylon or other quick-drying material to wear.
I'd recommend going commando and seeing how your biking experience improves.
If you wear baggy biking shorts or regular shorts, then consider padded underwear.
What Is Padded Bike Underwear?
Padded underwear consists of a chamois lined crotch that protects you while sitting on the hard saddle.
You can wear any of your favorite shorts while riding your bike, knowing that you're protected against the constant motion, high heat, moisture transfer, and chafing.
When it comes to padded bicycle clothing, you get to decide which type suits you. After all, everyone is different and what works for some will not always work for you.
Padded Liners vs Biking Shorts vs Bib Shorts
Biking Shorts
Biking shorts are designed to be used when you ride a bicycle. The two main types of biking shorts are bib shorts and shorts. Biking shorts are mostly made from a stretchy material known as lycra or spandex and contain a supportive chamois crotch for protection.
Bib Shorts
Bib shorts do not have a waistband so therefore there's no uncomfortable or itchy drawstring or elastic cutting into your abdomen.
They are longer than regular shorts and are made with a lightweight breathable mesh or Lycra straps that fasten over the shoulders to hold it in place.
This protects against chafing, rubbing, or binding.
If you choose bib shorts, wear the straps under your jersey not over.
Padded Underwear
Padded liners provide the same protection as biking shorts, but can be used for your next spinning class, trainer, or anything else.
They can be found in different styles from briefs, hipsters, boy undershorts, flattering boxers, and etc.
Why Do Cyclists Wear Padded Shorts?
There are several reasons cyclists wear biking shorts, but here are some of the main reasons.
Cushioning
The chamois crotch adds an extra pad of cushioning between your seat and the saddle of the bike. This padding prevents you from feeling all the bumps on the road.
Reduces Friction
Cycling shorts provide a snug fit, so it doesn't irritate your skin when pedaling. Whereas regular jeans or shorts will move up and down which can lead to painful skin conditions.
Moisture
Biking shorts are made of Lycra, CoolMax, spandex, and other types of wicking material to help keep you dry. Moisture build-up can lead to a great chance of developing a urinary tract infection (UTI).
Are Cycling Shorts Necessary?
Many beginners believe they don't need to wear cycling shorts. While it's true, you can ride in any type of clothing, it doesn't mean you should.
If you're planning on riding for extended periods (an hour or more), you should consider investing in a good biking kit.
Chamois Cream
The first biker shorts were made of a leather chamois that required long time riders to apply "chamois cream" to soften them up. Today's biking chamois doesn't require any type of treatment, but it can still be a good option to help with the comfort of your bike.
Apply a small quarter-size dollop directly to the regions on your skin, shorts, and saddle. This should prevent chafing and saddle sores.
How Should Cycling Shorts Fit?
Bike shorts should be tight when you first put them on, but not too tight where they cut off your circulation.
They should be snug enough to where they don't slip or ride up while you're riding your bike.
Final Word
Bicycle shorts are not meant to be a fashion statement. They should only be used for biking, not for hiking, running or hanging out at the coffee shop.
As soon as you get done with your bike ride, take them off and put them in the wash.