Thule and Yakima are two of the leading manufacturers of roof racks, which are easy to mount on almost any vehicle, allowing you to maximize your car's carrying capacity. While both brands include all the necessary components when you purchase a roof rack, many people have wondered whether Thule and Yakima racks are interchangeable. 
Despite being made by different manufacturers, many Thule and Yakima rack components are interchangeable. This interchangeability extends to rack accessories made for bikes, skis, kayaks, and cargo racks. If you want the best quality racks and accessories, it's wise to stay with one brand.
Before using Thule and Yakima racks and accessories interchangeably, we'll explain everything you must know.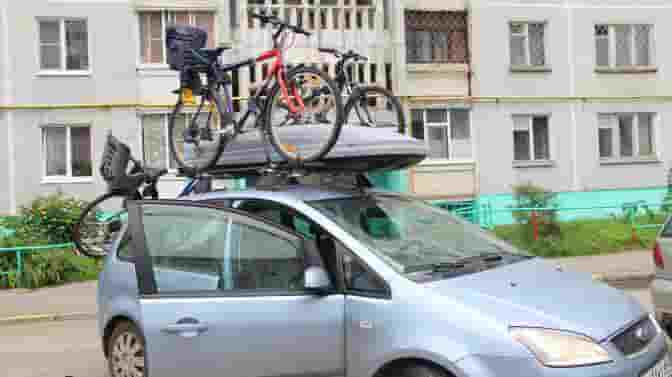 Once we've explained why many rack components are interchangeable, we'll discuss whether you should stick to one rack brand and how these roof rack manufacturers stack up against each other. 
Are Thule And Yakima Racks Interchangeable? 
While different manufacturers make Thule and Yakima roof racks, the brands specialize in similar products, which has led many people to question whether you can use the rack parts and accessories interchangeably. 
However, while there are differences between the rack systems made by these brands, you can use many of the components and accessories interchangeably.  
If you want to use Thule and Yakima parts and accessories interchangeably, you'll need to ensure the components are compatible with your rack. 
Examining your rack's crossbar will allow you to determine which parts and accessories will fit with your chosen rack system. 
The accessories and parts you use must be compatible with the size and shape of the roof rack's tracks. 
How Do Thule And Yakima Racks Differ?
The shape of the crossbars on Thule and Yakima racks is the main difference between the products from these two brands. Yakima crossbars have a rounded section, while Thule tracks utilize a rectangular crossbar section. 
While the differing crossbar design doesn't affect the interchangeability of rack parts and accessories, buyers have noted some benefits of each. 
Many buyers prefer Thule's rectangular crossbars because they make loading kayaks easier on the rack. 
However, since round crossbars are inherently stronger than square and rectangular designs, many prefer Yakima's sturdier crossbars. 
Whichever brand's rack you're using, you can rest assured that you can use the parts and accessories interchangeably.
Should You Stick With One Brand For Roof Racks?
While it's possible to use many Thule and Yakima rack parts and accessories interchangeably, it's recommended to use components from the same brand. 
Sticking to one manufacturer is the safest way to ensure all parts and accessories are compatible with the rack system installed on your vehicle. You also just need one key to lock the different system parts! 
Since Yakima's lock cylinders aren't compatible with Thule racks, and vice versa, you'd need to use multiple keys when using parts from both brands interchangeably. 
To avoid this unnecessary hassle, you can stick to one rack brand! However, before we compare the racks and accessories made by Thule and Yakima, let's outline a few factors to consider when picking a roof rack brand. 
4 Factors To Consider When Choosing Your Roof Rack Brand 
Since vehicles need different roof racks, finding the right system can be challenging – unless you know what to look for! 
Here are a few key considerations to keep in mind when choosing a roof rack system for your vehicle!
1. Weight Limit
The purpose of a roof rack is to extend the usability of your vehicle's carrying capacity – which is why it's essential to consider the weight limits of specific rack systems. 
After all, you want to purchase a rack that can support the most weight. For example, most racks by Thule and Yakima offer similar weight limits. 
2. Accessory Compatibility
Certain rack systems are compatible with specific accessories and parts. So consider this compatibility before choosing a rack for your vehicle. 
If one brand doesn't make the accessory you require, an accessory from another brand may be suitable to use with your roof rack. 
Since Thule and Yakima are leading brands, you shouldn't have difficulty finding accessories. 
3. Fit Guide 
Fit guides are the easiest way to ensure a roof rack's compatibility with your vehicle. Whenever shopping for racks and accessories, buyers should use the manufacturer's fit guide to ensure the tracks and parts are compatible with their vehicle. 
Thule and Yakima offer fit guides for customers to use before purchasing a rack system.
4. Manufacturer Notes 
Always read the manufacturer's notes before purchasing a roof rack system. With some roof racks, there might be important information vehicle owners should be aware of. 
For example, you could damage your car's sunroof since some roof racks prevent you from using your sunroof while the tracks are installed on the roof. 
Thule Vs. Yakima: Which Makes Better Roof Racks?
If you're struggling to decide between roof racks and accessories from Thule and Yakima, you might wonder which manufacturer makes the better equipment. 
Here's how the racks from both brands differ in terms of design, accessories, and cost! 
Thule Vs. Yakima: Design 
Thule and Yakima specialize in high-quality roof racks for vehicles. Both brands have fit guides, ensuring their racks securely fit your vehicle. 
Since neither brand sells one-size-fits-all racks, you don't need to worry about the roof tracks damaging your car.  
Thule Vs. Yakima: Accessories 
As two of the leading roof rack brands, there are numerous accessories available from Thule and Yakima. 
The accessories from both brands are high-quality, with the difference mainly coming down to personal preference. Regardless of which accessory or parts you're looking for, Thule and Yakima will have it, making it easier to stick to one brand. 
 Thule Vs. Yakima: Cost
Despite both companies specializing in similar products, Thule tracks and accessories tend to be more expensive than Yakima's. 
Due to this, it's often more cost-effective to purchase new Yakima accessories that are compatible with your existing Thule rack. 
Final Word
While different manufacturers make Thule and Yakima roof racks, many of the components and accessories can be used interchangeably, including those designed for bike, ski, kayak, and cargo racks. 
Ultimately, it's best to stick to one roof rack brand to guarantee that all your components and accessories are compatible with your roof rack system.
Related Articles