The Beaver State is one of the most friendly bike states. The state has invested in infrastructure and funding, making it easy for bicyclists to get around. However, as a bicyclist, it's important to understand the bicycle laws in Oregon to help keep you safe while riding.
We'll cover everything you need to know, from helmet laws to obeying traffic laws, nighttime equipment, and more.
What Does Oregon classify As A Bicycle?
Oregon classifies a "bicycle" as a vehicle with no more than three wheels that measure at least 14′ in diameter. It must have a seat and pedals that are operable by human power.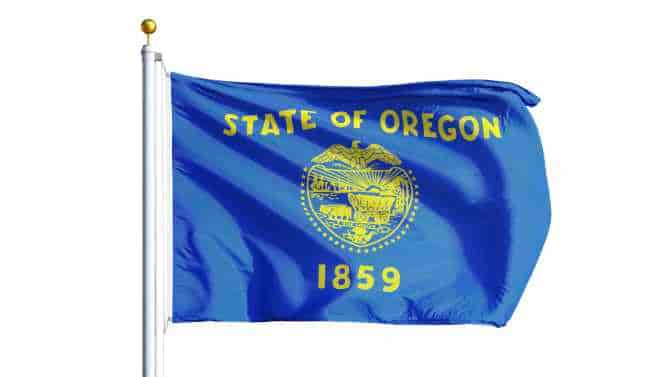 An e-bike must have functional pedals, no more than three wheels, a motor with a power output of no more than 1000W, and a maximum speed of 20 mph on level ground.
For the most part, the laws for electric and non-electric bicycles are the same. However, no person under 16 can operate an electric bicycle. 
The bicycle laws are the same throughout the state. However, some local governments may have local ordinances that are more strict than state laws. Therefore, it's always best to check with your local authorities to see if there are any additional regulations you need to follow.
Do Bicyclists Have to Obey Traffic Laws In Oregon?
Yes, the Beaver state classifies bicycles as vehicles. This means bicyclists have the same rights, and responsibilities, as motorists, including obeying all traffic signals, signs, lane markings, tunnels, school safety bus lights, etc.
Below are some of the traffic signs and signs bicyclists must follow and the action you need to take.
Signals and Signs What's Expected
Traffic Signals: Bicyclists are required to stop at all red lights and yield at yellow lights.
Bicycle Signals: Oregon has implemented bicycle signals to help keep bicyclists safe.
Stop Signs: Bicyclists are allowed to treat stop signs and red flashing lights as yield signs, as long as there is no oncoming traffic.
School Bus Safety Lights: Like motor vehicles, bicycles are required to stop for a school bus that is operating red bus safety lights.
Riding on Sidewalks: Pedal bikes are allowed to ride on sidewalks, but e-bikes are not.
Construction Zones: Follow all the directions given by flaggers, detours, etc.
The state laws are designed to protect both bicyclists and motorists. However, there are some instances where bicyclists may need to disobey traffic laws to avoid a collision or stay safe.
For example, if a lane is too narrow for a motor vehicle and bicycle to share safely, the bicyclist can ride in the middle of the travel lane.
Different cities and municipalities in Oregon have different rules on where bicycles and e-bikes are allowed to ride, so it's best to check with your local authorities. Failure to comply with the laws can result in a Class B traffic violation.
Can You Get A DUI On A Bicycle In Oregon?
Yes, bicyclists are subject to the same laws as motor vehicles. Therefore, riding your bike under the influence can result in a DUI. Anyone operating a vehicle (this includes bicycles, boats, scooters, mopeds, and e-bikes) in the state of Oregon cannot have .08% or higher Blood Alcohol Content (BAC).
Police officers have the right to stop and penalize a drunk bicyclist. If convicted, the penalties and consequences will vary as follows:
First-time offense: Eligible for the DUI Diversion program, and the DUI will be dismissed after 12 months.
More than One Offense: You are subject to a Class A misdemeanor or felony, which may result in jail time and fines.
Riding around intoxicated is dangerous and is not worth the risk, even if you're on two wheels.
Interstate Highways and Freeways
Yes, riding a bike on interstate highways and freeways in Oregon is legal. That said, some interstates and freeways may have bicycle restrictions. 
For example, Bike Portland says bicycles and pedestrians are not allowed on the new I-5 bridge.
If you're unsure whether you're allowed to ride on a certain interstate or freeway, the best thing to do is to check with your local authorities.
Riding on these roads is unsafe, and we do not recommend it. If you must ride on an interstate highway or freeway, use extreme caution, ride in the shoulder area, and be aware of the high traffic speeds around you.
Where to Ride A Bicycle In Oregon?
Oregon doesn't require bicyclists to use specific bike paths or lanes and is expected to share the road with pedestrians and vehicles. However, some cities have designated bike paths that make for a safer and more enjoyable ride.
As a bicyclist, you are allowed to ride on the following as long as you abide by the rules:
Riding on Sidewalks: Bicyclists must yield to pedestrians on sidewalks and crosswalks.
Public Roads: You must ride in the same direction as vehicle traffic.
Bicyclists can share the road with vehicles and are not required to use a bike lane or shoulder.
E-bikes are not allowed on sidewalks.
Bicyclists must use hand signals when turning or stopping.
At the time of this writing, the state has nearly 9,661 scenic bicycle routes to explore.
Licenses and Permits
According to Senate Bill 177, anyone who is an Oregon resident over 18 who rides on public roads and highways must register their bicycle. The registration fee is $10 per bike, which helps fund the Bicycle Transportation Improvement Fund and distributes the money to different counties.
The funds help fund the development and maintenance of the state's bicycle trails, bicycle paths, bicycle lanes, and other bicycle-related transportation improvement projects.
Failure to register your bicycle will result in a maximum of $250 fee. That said, this bill was enacted in 2015, and I couldn't find any information on whether it was still alive, so you'll need to find out.
Does Oregon Have A Bicycle Helmet Law?
According to ORS 814.485, anyone under 16 must wear protective headgear when operating a bicycle on public roadways or highways. 
Failure to do so can result in a traffic violation and fines of no more than $25. Exemptions are made if wearing a helmet violates the person's religious belief.
Although state laws require bicyclists 16 years of age to wear helmets, some cities and counties have enacted their own laws. So it's essential to check if your city has enacted different helmet laws.
Is It Illegal To Ride A Bike In Oregon Without A Helmet?
No, unless you live in an area where the local ordinance states you must wear a helmet, it is not illegal to ride without one for anyone over the age of 16.
Even though the helmet law is specific to anyone under age 16, it is still highly encouraged for everyone to wear one. Wearing a helmet can protect you from severe injury or death in the event of an accident, so it's always better to be safe than sorry.
How to Find the Bike Laws In My Local Ordinance?
The Department of transportation creates the laws that all vehicle motorists must follow. However, the state allows cities and counties to enact their own ordinances as long as they don't conflict with the state laws.
You'll need to contact your city or county clerk's office to find out the bike laws in your local area. This site also lists some of the local ordinances for cities throughout the state. Failure to comply with your city's ordinances can result in high fees and confiscation of the bicycle.
Can You Ride A Bike At Night In Oregon?
Yes, however, you must utilize bicycle lights for a half hour before and after sunset. This ensures other vehicles on the road can see you, and you can see them.
For bicyclists, a white front light is required and must be visible at least 500 feet or more. The back of the bicycle must have a working red reflector, visible up to 600 feet. In addition, the bikes must have working brakes that allow the rider to stop on dry, wet, and level pavement.
It's harder for drivers to see at night, so it's essential to be as visible as possible when riding after dark. Wearing reflective clothing is also a good idea.
Can You Carry A Passenger On A Bicycle In Oregon?
Yes, but you cannot carry more people on a bike than it is designed for. So, for example, if you're riding a tandem bike, you can only carry two people.
Most bicycles are not designed to carry more than one person, so if you're planning on carrying a passenger, you'll need to invest in a bike that is made for it, such as a tandem or dual electric bike.
Can You Wear Headphones While Riding A Bicycle In Oregon?
The state of Oregon prohibits all bicyclists from covering both ears while riding. This is because the headphones impair the rider and prevent them from hearing traffic, horns, and other warning sounds.
While it is legal to wear one earbud while riding, it's still not advisable as it can be just as distracting.
As a cyclist, it's vital to be able to hear what's going on around you at all times. Listening to music while riding a bike increases your chances of being involved in an accident.
If you want to listen to music or podcasts while riding, consider riding your bike in a park or on a trail with less traffic.
What To Do When You're Involved In A Bicycle Accident?
Oregon is one of the best places to ride for bicyclists. But, unfortunately, it can also be one of the most dangerous places to ride. According to the Department of Transportation, from 2007 – 20015, more than 8,000 bicycle collisions were reported.
Unfortunately, many accidents are hit and run, where the driver leaves the scene, making it difficult to recover damages. But, if you're on the road often enough, you'll likely be involved in an accident. Here's what to do.
Report the accident to the police and DMV.
Seek medical attention. Most injuries appear hours or days after the accident (so you need a record of the injuries linking to the bicycle accident.)
Move the bicycle out of the roadway to avoid getting hit again.
Gather the names and contact information of the vehicle driver.
Get the names and contact information of all witnesses.
Stay at the scene until law enforcement arrives.
If you're involved in a bicycle accident, we recommend contacting an experienced personal injury lawyer as soon as possible. They will help you navigate the legal process and ensure fair compensation for your injuries.
The right attorney can help file a claim so you can get compensated for the following:
Medical expenses
Pain and suffering
Lost wages
Damage to your bicycle
Emotional distress
An experienced bicycle accident lawyer will also know how to deal with insurance companies and their adjusters. They will work to get you the maximum amount of compensation possible.
Final Word
Oregon classifies bicycles as a vehicle. This means riders are subject to the same traffic laws as drivers. Therefore, bicyclists must follow all road rules, including riding in the same direction as traffic, obeying stop signs and traffic lights, and yielding to pedestrians.
Failure to follow these laws can result in a citation. In addition, if you're involved in an accident while breaking the law, you may be found at fault, which could impact your ability to recover damages.
When it comes to bicycle safety, knowledge is power. Understanding the laws can help keep yourself and others safe on the roads.
Related Articles
Sources
https://oregon.public.law/statutes/ors_811.410
https://traveloregon.com/things-to-do/outdoor-recreation/bicycling/road-biking/ride-oregon-scenic-bikeways/
https://oregon.public.law/statutes/ors_814.487
https://oregon.public.law/statutes/ors_815.052
https://oregon.public.law/statutes/ors_814.485
https://www.portlandoregon.gov/transportation/article/419744
https://www.tcnf.legal/app/uploads/2018/08/Oregon-E-Bike-Rights-A-Legal-Guide-for-Electric-Bike-Riders.pdf
https://www.oregonlive.com/news/erry-2018/12/857d6e37748064/comparing-6268-bicycle-collisi.html