If you're a bicyclist in the Evergreen state, you must know the laws and regulations that apply to you. So here's a quick rundown of some of Washington's most important bicycle laws.
The Washington State Legislature RC 46.61.755 states that anyone riding a bicycle on a public roadway must abide by the same rules and regulations as vehicular drivers. Failure to abide by the rules and regulations are subject can be ticketed. 
Washington state is one of the most bicycle-friendly states in the United States. This is because it offers several different transportation methods for bicyclists. For example, bicyclists can transport their bicycles via the link light rail, ferry, or public transport or pedal on the public roads or the vast growing network of recognized bike routes.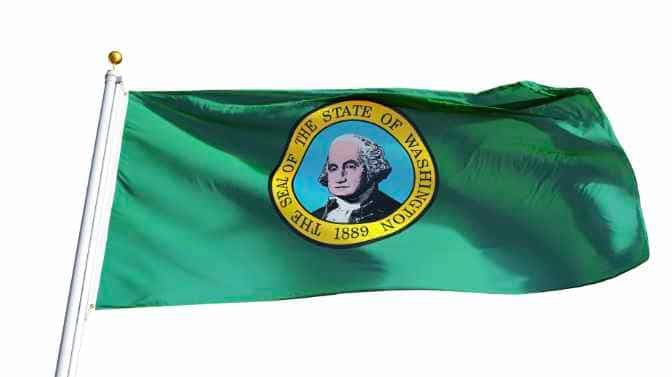 That said, every state has its specific regulations regarding bicyclists. We'll cover everything you need to know, from helmet laws, obeying traffic laws, nighttime equipment, and more.
What Does Washington classify As A Bicycle?
Washington classifies a "bicycle" as a non-motorized vehicle propelled by human power. According to RCW 46.04.169, an electric bike with two or three wheels, a motor of fewer than 750 watts, a saddle, and fully operative pedals requiring a human to move the bicycle falls into the bicycle category.
They fall into the following categories based on how fast it goes.
Class 1: An electric bike with a pedal assist and motor that doesn't go above 20 mph.
Class 2: E-bikes equipped with a motor to propel a rider but doesn't exceed 20 mph.
Class 3: An electric bike with a motor that works when the rider pedals but doesn't exceed 28 mph.
For the most part, the laws for electric and non-electric bicycles are the same. However, no person under 16 can operate a class 3 e-bike unless riding as a passenger.
The bicycle laws are the same throughout the state. However, some local governments may have local ordinances that are more strict than state laws. Therefore, it's always best to check with your local authorities to see if there are any additional regulations you need to follow.
Do Bicyclists Have to Obey Traffic Laws In Washington?
Yes, bicyclists have the same rights and responsibilities as motorists when biking on public roads. They must obey the traffic lights, signals, and all regulations pertaining to vehicular traffic.
Failure to abide by the laws and regulations could result in a ticket.
Can You Get A DUI On A Bicycle In Washington?
Washington does not classify bicycles as vehicles. In 1995, the Washington State Supreme court ruled that cyclists can't receive a DUI if riding a bike while impaired. That said, e-bikes and scooters can get a DUI.
Police officers have the right to stop and penalize a drunk bicyclist. The rider is subjected to a gross misdemeanor such as; reckless driving, reckless endangerment, or disorderly conduct.
Riding around intoxicated is dangerous and is not worth the risk, even if you're on two wheels.
Interstate Highways and Freeways
At the time of this writing, no federal laws or regulations prohibit bicycles or e-bikes on interstate highways or freeways. That said, bicyclists must ride on the right shoulder of limited-access highways, except where prohibited.
For example, it is illegal for cyclists to ride on the portion of I-90 that stretches 25 miles between Seattle and the Idaho border. Laws vary in counties and municipalities, so you'll want to check with your local authorities before you ride on an interstate or freeway.
Riding on these roads is unsafe, and we do not recommend it. If you must ride on an interstate highway or freeway, use extreme caution, ride in the shoulder area, and be aware of the high traffic speeds around you.
Where to Ride A Bicycle In Washington?
Washington doesn't require bicyclists to use specific bike paths or lanes and is expected to share the road with pedestrians and vehicles. However, some cities have designated bike paths that make for a safer and more enjoyable ride.
As a bicyclist, you are allowed to ride on the following as long as you abide by the rules:
Riding on Sidewalks: Bicyclists must yield to pedestrians on sidewalks and crosswalks.
Public Roads: You must ride in the same direction as vehicle traffic.
Bicyclists can share the road with vehicles and are not required to use a bike lane or shoulder.
E-bikes are not allowed on sidewalks.
Bicyclists must use hand signals when turning or stopping.
At the time of this writing, the state has nearly 700 miles of U.S. bicycle routes. This makes it easy to get from point A to point B while sharing the road with vehicular traffic.
Licenses and Permits
Washington does not require non-motorized or e-bicyclists to possess licenses, permits, or registration of any kind to ride legally.
Parents are responsible for their children obeying the laws.
Does Washington Have A Bicycle Helmet Law?
Although no state laws require bicyclists to wear helmets, some cities and counties have enacted their own laws. Here's a list of the cities requiring a helmet while riding a bicycle on public roadways.
| | |
| --- | --- |
| City | Age Helmet Required |
| Gig Harbor | Everyone |
| Dupont | Everyone |
| Aberdeen | Everyone |
| Orting | Under 17 |
| Poulsbo | Under 18 |
| Moses Lake | Under 16 |
| Renton | Everyone |
| Spokane | Under 16 |
As mentioned above, cities and municipalities set their own regulations. Just because your city isn't listed above, it doesn't mean a helmet isn't required.
Is It Illegal To Ride A Bike In Washington Without A Helmet?
No, unless you live in an area where the local ordinance states you must wear a helmet, it is not illegal to ride without one.
Even though there's no law making helmets mandatory, it is still highly encouraged to wear one whenever you're riding. Wearing a helmet can protect you from severe injury or death in the event of an accident, so it's always better to be safe than sorry.
Can You Ride A Bike At Night In Washington?
Yes, however, you must utilize bicycle lights for a half hour before and after sunset. This ensures other vehicles on the road can see you, and you can see them.
For bicyclists, a white front light is required and must be visible at least 500 feet or more. The back of the bicycle must have a working red reflector, visible up to 600 feet. In addition, the bikes must have working brakes that allow the rider to stop on dry, wet, and level pavement.
It's harder for drivers to see at night, so it's essential to be as visible as possible when riding after dark. Wearing reflective clothing is also a good idea.
Can You Carry A Passenger On A Bicycle In Washington?
Yes, but you cannot carry more people on a bike than it is designed for. So, for example, if you're riding a tandem bike, you can only carry two people.
Most bicycles are not designed to carry more than one person, so if you're planning on carrying a passenger, you'll need to invest in a bike that is made for it, such as a tandem or dual electric bike.
Can You Wear Headphones While Riding A Bicycle In Washington?
The state of Washington prohibits all bicyclists from covering both ears while riding. Wearing earplugs or earbuds in only one ear is allowed but is not recommended as it can impair your hearing and make it more difficult to hear traffic.
As a cyclist, it's vital to be able to hear what's going on around you at all times. Listening to music while riding a bike increases your chances of being involved in an accident.
If you want to listen to music or podcasts while riding, consider riding your bike in a park or on a trail with less traffic.
What To Do When You're Involved In A Bicycle Accident?
Seattle is one of the best places to ride for bicyclists. It can also be one of the most dangerous places to ride. Seattle reported 6.5 more bicycle accidents than other smaller cities.
Unfortunately, many accidents are hit and run, where the driver leaves the scene, making it difficult to recover damages. But, if you're on the road often enough, you'll likely be involved in an accident. Here's what to do.
Call the police (if injured or a fatality is involved)
Seek medical attention. Most injuries appear hours or days after the accident (so you need a record of the injuries linking to the bicycle accident.)
A Washington State Collision report is required if the damage exceeds $1,000.
Move the bicycle out of the roadway to avoid getting hit again.
Stay at the scene until law enforcement arrives.
If you're involved in a bicycle accident, we recommend contacting an experienced personal injury lawyer as soon as possible. They will help you navigate the legal process and ensure fair compensation for your injuries.
The right attorney can help file a claim so you can get compensated for the following:
Medical expenses
Pain and suffering
Lost wages
Damage to your bicycle
Emotional distress
An experienced bicycle accident lawyer will also know how to deal with insurance companies and their adjusters. They will work to get you the maximum amount of compensation possible.
Final Word
Washington state does not consider human-powered bicycles as vehicles unless it is an e-bike. However, anyone riding a bike must obey the same laws and regulations as drivers of vehicles.
Riding a bike is a great way to get around, but it's essential to know the road rules before you hit the pavement. Following the laws and being aware of your surroundings can help keep you safe while riding your bike.
Related Articles
Sources
https://wsdot.wa.gov/travel/bicycling-walking/bicycling-washington/bicyclist-laws-safety
https://app.leg.wa.gov/rcw/default.aspx?cite=46.04.071