A tonneau cover is one of the most popular accessories for pickup trucks. They are usually designed to protect the truck bed from weather and debris. However, they can also be a problem when trying to install bike racks on your truck. We have put together a list of the best bike racks for trucks with tonneau covers in order to make it easier for you, as well as transport options.
Can You Put A Rack On A Truck With A Tonneau Cover?
For heavy-duty, soft, and hard tonneau covers, it will be possible to install a bike rack. The type of bike rack you install on a truck with a tonneau cover will depend on the type of cover you have (more on the types of covers later), and whether or not the bed rails are unobstructed.
This article assumes you want to install a rack without having to fold or roll the cover every time.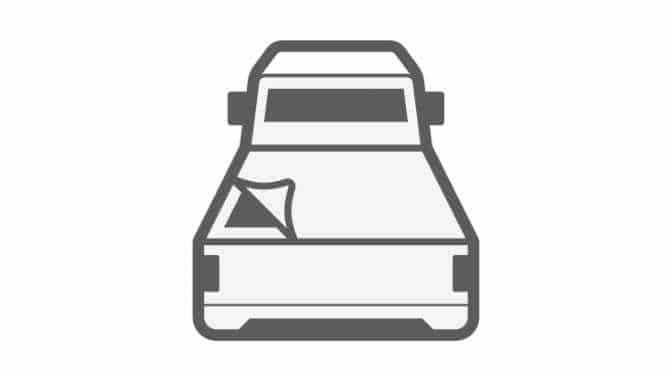 But first, let's take a look at the different types of tonneau covers available for trucks.
*This page contains affiliate links to products I recommend. If you purchase something from this page, I may receive a small percentage of the sale at no extra cost to you.
What Is A Tonneau Cover?
A tonneau cover is a type of truck accessory that is designed to keep the bed of the truck safe from debris. They are made of fiberglass, aluminum, steel, and vinyl. Tonneau covers are attached and secured to the bed at one end and the tailgate at the other end. Some tonneau covers come in a variety of colors, shapes, sizes, and styles.
Tonneau covers for pickups are popular because they protect against rain, snow, hail, sand, dirt, mud, bird droppings, tree sap … The list goes on. They also help maintain the resale value of your pickup when you sell it in the future because you can offer a clear and clean truck bed. Tonneau covers can cost a little or a lot depending on the material they are made of, their size, design, etc.
Types of Tonneau Covers for Trucks
write a paragraph about types of tonneau covers for trucks
There are several types of tonneau covers available on the market, however, the most popular ones are:
One-piece solid covers
Soft roll-up covers
hard folding covers
Retractable covers
Hard roll-up covers
Soft folding covers
Can You Put A Rack On A Tonneau Cover?
Yes, the bike rack that comes to mind is the Swagman bike rack. The reason being is that you can easily add some customizations to help you install the bike rack without retracting, folding, or removing the tonneau cover.
That said, racks built for softcover trucks will not work well on hard covers. You can however use a hard rack cover for a softcover, as long as get creative and create a mounting system that will protect your tonneau cover. We'll cover how to do this below.
Why Put A Bike Rack On A Tonneau Cover?
You're probably thinking, why not just put a hitch on the back of the truck and purchase a hitch bike rack carrier? A hitch carrier will work if you take short trips every once in a while.
However, a hitch bike rack will cause excessive wear and tear on a bumper, especially, if you spend a lot of time transporting the bikes. The weight of the bikes will eventually rip off the bumper, especially, when you're traveling on roads in excess of 60mph.
How to Install A Bike Rack On A Tonneau Cover?
Ready to install a DIY bike rack for your truck bed cover? If so, the video below will walk you through the process. I've also outlined the process below, to make it easier for those that prefer text over video.
The process in the video discusses the installation process for a retractable cover. But the installation process will work for most softshell covers as well.
What You'll Need
4 Pocket anchors (you can find them at Lowes or any hardware store)
Square aluminum tubing for rails.(can be found at Lowes or Home Depot)
Measuring tape
Handsaw or electrical power saw
Box cutter
Drill
1/4 inch bolts (or a size to fit your truck)
Rubber gaskets (spacers)
Crescent wrench or any other wrench
Swagman Upright Roof Rack (4) (Amazon Link)
The cost of everything you need will be around $260 depending on how many Swagman roof racks you buy and the cost of the supplies in your area.
Step #1: Measure and Cut The Tubing
Measure the length of the anchor holes on the side of the bed of the truck. Next cut the aluminum tubing to the proper size. Make sure you measure more than once so you don't cut it too short.
Step #2: Expose The Holes On The Pocket Covers
Pocket covers are high-impact plastic inserts that snap easily into place on the bed of the truck. Depending on the make, model, and year of the vehicle, you may not need to cut a hole.
Step #3 Drill A Hole On The Tubing
Once the pocket holes are exposed, drill a hole on the tubing. Then use the 1/4″ bolt that will connect it to the truck. Use a rubber gasket for a spacer, then attach a pocket anchor.
If you have a plastic bed covering, it will be challenging to get the pocket anchor to fit smoothly, so keep playing with it until it sits flush. Repeat the process for the other pocket hole and then do the same for the other side of the bed with a new piece of tubing.
Step #4 Cut The Tubes That Go Over The Truck Bed
Measure the tubing for the tubing that will act as a crossbar. Since you'll be attaching the bike rack to this section, you'll want to ensure you take the measurements using the bike rack.
This will ensure you know exactly where the bars need to be mounted in order for the racks to fit.
Step #5 Mount the Swagman Bike Rack
The Swagman upright roof rack will cost you about $40 each on Amazon, you can read more about it here. There are other cheaper options available, however, after spending hours researching, we found that the Swagman bike rack had the best reviews. Plus, it is the one that most people use when mounting it to a tonneau cover.
If you've purchased a different type of bike rack, be sure you read the installation instructions that come with the rack. For the Swagman bike rack, you'll want to position the u-bolt in the proper place and tighten it with the included hardware and straps.
The Benefits of Using the Swagman Bike Rack
If installed properly, the bikes will sit securely in the back of your truck without wobbling or shaking, even when driving on the highway. The downside is it can be challenging to lift the bikes over your head and install them on the racks, especially, for people who don't have a lot of upper body strength.
Therefore, it will be challenging for a small child or even one person to load and unload the bikes by themselves.
Other Options for Transporting Your Bicycle
If for some reason you can't install a bike rack on your tonneau cover or you're afraid you might damage it, then below you'll find other options.
Take The Bike Apart
Today's bicycles make it easy to transport inside a vehicle by removing the saddle, peddles, and saddle. Making it easy to put the bike under the cover. The downside is the frame of the bike can tear a soft cover tonneau, and a hard shell cover can damage the bike, especially, if it is applying excessive pressure to the bike.
Remove the Tonneau Cover
One additional option for transporting a bike in your truck bed is to remove the tonneau cover completely and place it on the back of the pickup. When removing the cover, make sure it is off to one side so that it won't obstruct you while driving. Hang it on hooks or tie it down securely with ropes."
The downside of using this method is removing a tonneau cover can be time-consuming and challenging. Hard tonneaus like hinged fiberglass will require multiple people or even a forklift to remove.
As long as you don't have to remove the side rails, a softshell cover can easily be removed in about 10-15 minutes. However, it can be a hassle to remove them every time you want to go for a bike ride.
Get The Right Cover
If you're not a DIY person and don't want to drill holes or cut into the truck, then opt for a cover that is designed for attaching almost any Thule bike rack. The Ultragroove covers designed by Pace Edwards are more expensive, but the built-in RES™️ expansion system makes it extremely versatile for outdoor enthusiasts.
You'll have the ability to carry bikes, kayaks, snowboards, and more!
Final Word
You can install a bike rack on your truck with a tonneau cover, as long as you're willing to get creative. This method won't work for every type of tonneau cover, but it should work well for high-quality softshell and retractable covers.
The Swagman bike rack is a perfect solution because not only can you add some customizations to the installation process, but they are durable and long-lasting.
Related Articles