Bike racks are a great way to transport your bikes for all your on-road and off-road adventures. But bike racks are sometimes difficult to put on and take back off your car. If you need to wash your car, can you leave the bike rack attached? Or should you remove it?
Can I Go Through A Carwash With A Bike Rack?
Never take your bike through an automatic car rack, as it can damage the rack and void the warranty. Automatic car washes have several moving parts that can snag, pull, or tear the rack off your vehicle. 
It is honestly best to play it safe and take your bike rack off before going through a car wash. Otherwise, you risk damage to the bike rack or your car. Below we'll cover why it's not safe to take a bike rack through a carwash. Plus, how you can wash the dirt and grime from a bike after riding it.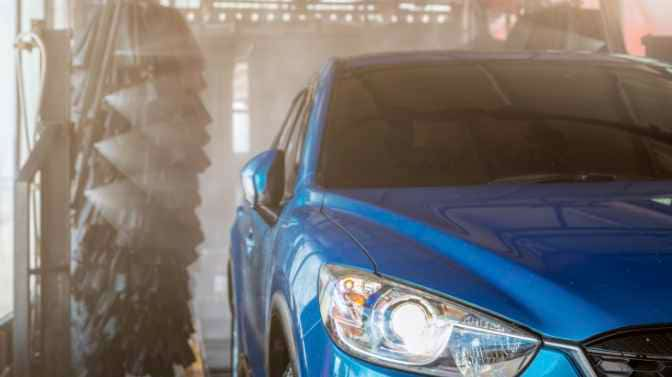 There are several types of car washes from full-service, self-serve, touchless, etc. In this article, we're referring to the conveyorized car wash system, where you drive into a bay or on a conveyor belt, and the equipment moves past your vehicle. 
But first, let's look at what manufacturers say about it. 
What the Bike Rack Manufacturers Say 
Many bike rack manufacturers recommend removing the bike rack from your car before going through an automatic carwash. Some bike rack manufacturers outright say never to take it through an automatic carwash.
This is largely because the brushes from the carwash could snag or tangle onto the bike rack, which could cause damage to the rack, your car, or someone else's car. Worse, it could damage the carwash itself.
Some bike rack manufacturers say that you void the warranty if you take the bike rack through the car wash.
Specific concerns include:
The brushes of the carwash tangling in the rack and pulling it off
Your car getting damaged if the rack gets pulled off
The carwash system getting damaged if the rack gets caught up in it
The rack getting damaged in this instance
The rack falling off and damaging a car behind you
Rack getting rusty or the fittings getting damaged
And while most bike rack manufacturers "recommend" taking the rack off before going through a car wash. 
They are actually saying that if you take it through a car wash, you assume all risks and will likely void your warranty.
What the Automatic Carwash Companies Say 
Due to the possibility of extraneous vehicle add-ons increasing the risk of something snagging in the automatic carwash brushes, automatic carwash companies say to remove any and all of them from your vehicle before entering. Unfortunately, choosing not to do so usually means the owner assumes the risk of damages.
Some carwashes specifically state not to go through them with external racks attached. Others do not state explicitly, so you may ask someone who works there their stance on roof racks.
If they say it will be fine, you can trust them. Or you can trust that they have insurance to cover any damages should something occur. Of course, you will just want to have photographic evidence to help your claim.
Even if they say it will be fine to take the rack through, most car washes don't actually want to cover replacement parts to your bike rack or car. 
Then you'll be on the hook to buy replacement parts or a replacement rack.
Always assume that any sign you see is the carwash absolving themselves of responsibility and putting the onus on the customer – you – to enter at your own risk.
One carwash even sued someone for damaging their carwash by bringing a bike rack in.
Generally speaking, unless otherwise stated, carwashes are not responsible for:
Vehicles that are too tall or have attachments that make them too tall, like roof racks
Vehicles with a bike, cargo, or sports racks attached
Spare tire racks
Long antennae
Once carwashes say they're not responsible for any of those items, you should not take them into the carwash system.
What About Self-Serve Car Washes?
Is it safe to use a self-serve car wash instead of washing the dirt and grime at an automatic car wash? You would think so because no conveyor belts or equipment can damage your rack system.
However, these car washes blast out water at 1,000 to 1,200 PSI, and some can go as high as 2,200 PSI. This amount of pressure is dangerous and can peel the paint off your rack, or worse, break the components. 
What About Touchless Carwash Systems
By taking your car and bike rack through a touchless carwash system, you do lower the risks of damaging any part involved. This is because touchless carwashes use water pressure and powerful soaps to clean vehicles without the need for brushes.
The risks are not completely nonexistent, however. For example, powerful water pressure can still damage the rack on your car.
Some people say they've never had issues with touchless systems, but enough people have mentioned that it can still be a problem that it's worth considering the risks.
Can You Take A Bike Through A Car Wash?
If you're on the fence about taking your bike rack through the car wash, you must know that you have to take the bikes off first. 
Most, if not all, car washes will stop you before you take bikes through. But bringing bikes into any carwash system, touchless or not, is both risky and dangerous.
It can cause damage to the rear of your vehicle and the bike itself.
Bikes should always be washed separately. Especially because chains, brakes, and gears need individualized attention that cannot be achieved while focusing on the car or the bike rack.
How to Wash Your Bike Rack 
So, since taking your bike rack through a car wash is not the best idea, the best way to maintain it is to wipe it down after every use to keep the dirt and grime from building up.
Then every few months or so, wash it with brushes and soaps by hand. Afterward, if need be, you can lubricate moving parts and locks to further protect against future dirt and grime.
If you don't want to spend a lot of money on specialty soaps, you can always use Dawn soap, which is safe enough for wildlife, dishes, and your bike rack.
If the standard garden hose isn't enough for the toughest grit, you can get a power nozzle attachment or use a power washer for some extra oomph.
After washing your bike rack, it's a good time to look for any damages resulting from general use and make sure that everything is in working order.
It is also a good practice to store your clean bike rack when it is not in use. That will increase the longevity of the rack.
Taking it to a Handwash Place 
If handwashing your car and bike rack is not in the cards for you for whatever reason, another thing you can do is find a handwashing place and take your car and bike rack there to be washed and detailed.
Pros of doing this:
Car and bike rack gets washed
No spinning brushes or nozzles for the bike rack to get tangled up in
Individualized attention to all parts attached
Car usually ends up detailed
Cost-effective
Best Practices
If you want to keep the bike rack attached to your car, the best thing to do is handwashing it or use a handwashing service. 
This way, you will get your car and the bike rack clean simultaneously without risking damages to anything involved.
It is a more involved approach, but it is better for your car, bike rack, and carwash systems.
Final Word
So while it may be tempting to take your muddy car and bike rack through the carwash after you've just gotten back from an off-roading trip, taking it to an automatic carwash is not your best option.  
If you want to use an automatic carwash, it is best to leave the bike rack at home. 
The last thing you want to do is run it through the car wash and damage it. Or worse, damage the vehicle behind you!
Articles You May Be Interested In