If you own a bike and have ever considered taking it with you on a family vacation, then the answer to this question is "Yes!" You can put a bike rack on the back of your van, even a minivan. The key is finding the right type of rack for your vehicle, and ensuring that it will be compatible with your bikes. In this article, we'll discuss the best type of bike racks for a van, and how to install them. 
Can You Put A Bike Rack On A Van?
Yes, you can opt to use a platform hitch bike rack or a trunk mount bicycle rack, depending on the type of van you drive. If you have an older van, with a spare tire attached to it, you'll want to install a hitch bike rack. For a newer minivan, you'll want to consider bike rack placement, how many bikes you'll be carrying, and whether you want a vertical or horizontal carrier.
This may not make any sense right now, but after reading this article, you'll understand how to install a bike on a van, even a minivan.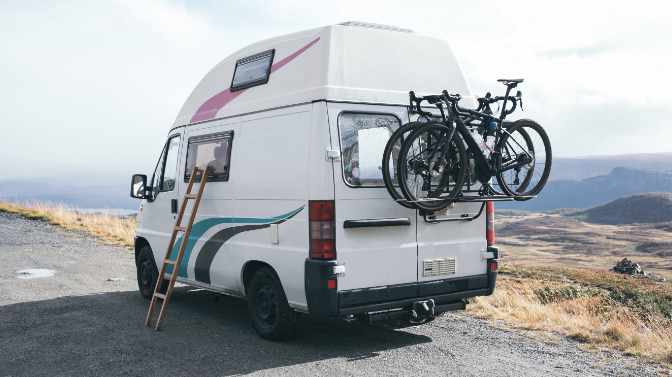 Types of Bike Racks for Vans
Before we get into installing a bike rack on a van, it's important to consider the type of van you drive. There are many different makes and models available on the market.   
Unfortunately, there are no universal bike racks available The type of van you drive will depend on the type of rack you use. 
Minivans
A Minivan is typically a fairly large vehicle that you can take your family and travel in. They're known for their utility and you can pack a lot of people or items in there. 
Minivans are manufactured by a number of manufacturers, including General Motors, Toyota, Nissan, and Honda. If you drive a minivan, you have several options to choose from, some of the best bike racks for minivans are: 
Hitch-Mounted Bike Racks: A rack that is installed at the back (rear) of the vehicle, utilizing a hitch.
Trunk Mounted Bike Rack: The bike rack is attached to the rear doors or hatch of the vehicle.
Roof Mounted Bike Racks: A roof rack system that requires crossbars to be installed.
Suction Mount Bike Racks: Utilizes vacuum cups to create a seal and attach to the trunk, glass, or roof of your vehicle.
Combo & Crew Vans
A combo or crew van is a vehicle that you can typically use for transporting people and things.
They often have more than one area to store things in, such as the rear of the vehicle. 
They can either be a full-size van or a mini-van. Different types of combo vans you'll see on the market are: 
Ford "Econoline" style van with a side door
Chevrolet Astro with dual back doors
GMC Savana passenger van
A hitch rack would work best for combo and Crew vans since it will still allow people to open the back doors. You'll want to invest in a hitch rack that allows you to lower the rack without removing the bikes. 
Minibus & MPV Vans
A minibus is a small bus that you can use to transport groups of people from one place to another. They are often used by schools, universities, and hospitals as a form of transportation for large groups.  
MPV vans are typically larger than minivans and they have more storage space on the inside. They're the perfect choice for you if you have a large family or you do a lot of traveling.
Some MPVs you might see on the market are: 
Honda Odyssey and Toyota Sienna
Nissan Quest (also known as "mid-size")
Minibusses and MPV vans, I'd recommend using a hitch mount bike rack as well. That said, the bigger bike racks will hold 3-6 bikes, depending on the make and model.
Camper Vans
Cargo vans are also known as conversion vans. Some people are utilizing these types of vans for van life (living in vans full-time), and have grown in popularity.
Some popular camper vans you'll find on the market are:
Mercedes Sprinter
VW Bus
Ford Transit
Best Bike Racks for a Minivan
Finding the right bike rack for your minivan can be challenging. How do you choose between a vertical or horizontal holder? Finding the right bike rack for a minivan can be challenging. 
I've rounded up some of the best bike racks that will work for your minivan. All the following bike racks have great reviews online, and they are the same ones I've looked at when I was looking for one for our minivan. The only reason we didn't get one, is because we sold the van. 
AA Products 3 Bike Rack Platform Hitch: This foldable bike rack works on Minivans, SUVs, trucks, and cars. It is designed to fit a 2″ hitch receiver and folds making it easy to access the rear of the van.
GUDE 4 Hitch Mount Bike Rack: A 2″ hitch swing rack designed for Vans, Minivans, SUVs, and passenger cars. 
Walmann Bike Trunk Mount Carrier: Rear mounting carrier that holds up to 3 bikes. Consists of an individual tie-down system with 6 straps and two arms that fit passenger minivans, hatchbacks, sedans, and SUVs. 
Things to Take Into Consideration
Older vans from 75-91 (Ford), had a spare tire on the back of the double doors. There are still several of these van models on the road, and if you have one of these vans, you'll want to opt for a spare tire mount rack. 
They are similar to a trunk bicycle mount and are designed for jeeps, sport utility vehicles, off-road vehicles, or vehicles with a spare tire mounted on the rear of the vehicle. 
If your van has a spare tire, you don't have to remove it to carry bicycles. Below are some of the best spare tire mount racks that may work for your van. 
FieryRed Spare Tire Bicycle Carrier: 75lb capacity heavy duty iron bicycle carrier with a two bicycle carrier limit. Mounts quickly with most tire mounting bases. 
Bunker Indust Adjustable Bolt-On Spare Tire Rack: A universal carrier that attaches to the spare tire utilizing bolts, and a universal plate. Perfect for vans, off-road vehicles, especially jeeps.
How Do You Put A Bike Rack On A Van?
Once you understand the type of van you have and the type of bike rack that works best for it, it's time to install it. Installing a bike rack on a van will depend on the type of bike rack you choose from. 
The process of putting a bike rack on a van is similar to any vehicle. I'd recommend browsing YouTube to help you install the bike rack. The installation process will vary depending on the type of van, and the rack you purchase. 
This video walks you through how to install a folding bike rack on a van, which is the most popular type used by van owners.
Can You Put A Hitch On A Van?
It is possible to put a hitch on a van. Ensure the hitch you use is the right fit for your vehicle. Check the owner's manual to ensure your van has a "tow package" weight limit.  
A hitch kit can be installed at a local auto shop, so shop around for the best prices.
Other Options to Consider
Consider Building A Slide Out Bike Rack
If you have enough cargo space on the inside of your van, you could opt for a slide-out bike rack, which is used by many people who use their bikes as a house.
A slide-out is a bike carrier tray that allows the bikes to slide in and out of the van. The slides will lock the bikes in place, preventing to move during transport.   
A bike slide-out is an option you may not know about, but it's worth considering if you're trying to find the best way to transport your bikes on the inside of your van.
Unfortunately, there are no bike slide storage options available for purchase (that I know of). So you'll need to purchase the supplies at Lowe's or your local hardware store and build it yourself. 
This video will walk you through how to build your own slide-out bike rack for a van.  
Take The Bike Apart
Most bikes on the market make it easy to remove the saddle, pedals, and tires for easy transport. You may need a wrench to remove them, but it will help you save money if you don't want to buy a bike rack. 
Consider A Folding Bike
A folding bike is a great option, as the bike will fold making it compact and easier to transport. 
Rent Bikes Instead of Taking Your Own
Consider renting some bikes while on vacation, instead of carrying your own bikes. This can be a great option if you're visiting a bike-friendly destination. 
Rent An SUV or Truck
If you have several bikes to carry and you can't find a bike rack for your van, then consider renting a truck or SUV. Those types of vehicles have more cargo space making it easier to transport a larger number of bikes. 
Final Word
It is possible to put a bike rack on a van, but you'll need to find the best one that is going to work for you. 
There are many types of bike racks you can choose from. Like any other type of vehicle, you can choose from a roof, hitch, or rear mount racks. 
You'll need to find the type that will work best for you, based on the vehicle, type of bike, and the number of bikes you need to transport.
I've tried to include as much information you could need, and some other options you might want to consider before you buy your new rack.
Articles You May Be Interested In
Sources
Best Vans to Live In Full Time