You get to your favorite biking destination and are ready to spend the day biking. The thought of how to properly secure your bike rack doesn't even cross your mind. That is until you hear a story about someone else's bike rack being stolen. 
Do Bike Racks Get Stolen From Cars?
It does happen but not often. Bike racks are designed to fit specific model vehicles, so they are not universal. In addition, they have security features such as locks, cables, brackets, and hitches. When a bike rack gets tampered with, it's usually because they are attempting to steal the bikes on the rack. 
However, nothing is theft-proof and people have found ways to remove bike racks with and without the bikes.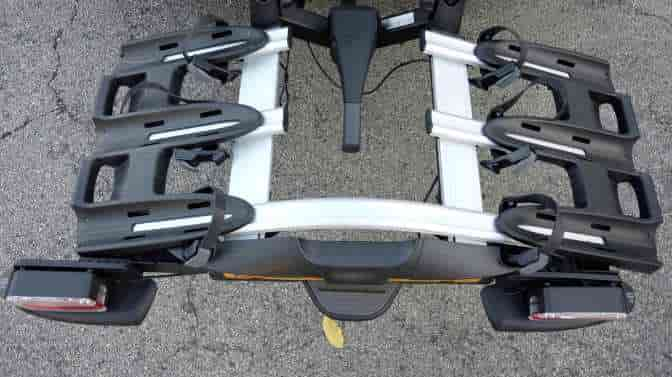 In this article, we'll discuss why people steal bike racks, what you can do to prevent your bike rack from being stolen. As well as which bike racks are targeted more often, if any. 
How Often Do Bike Racks Get Stolen?
Not as often as you'd think, however, in 2011 police in Salem, made an arrest when someone stole a roof rack from a 1995 Honda Civic. At the time, it was a new trend of people stealing bike racks. 
Today, many people (myself included) leave their bike racks on the vehicle without any issues. Of course, this doesn't mean that it won't happen. 
However, most thieves are not interested in stealing bike racks. It could be because bike racks are not universal. 
If someone does steal your bike rack, it's like because you have an expensive rack system that can be sold for a lot of money on Craigslist or Facebook Market Place. 
Which Rack Systems Are Most Likely to Be Stolen?
Now that you know, it's possible for someone to steal a rack from your vehicle. You're probably wondering, which ones are more likely to be stolen? 
Thieves will gravitate towards rack systems that are easy to take. So, it's important to know how each system works and what type of safety features they have to prevent theft. 
Every car bike rack is different, depending on the model. However, below you'll find some of the features found on different types of racks. 
Hitch Mount Rack
Hitch mounted bike rack systems come in different models and brands such as Yakima, Thule, Saris and etc. These bicycle racks slide into the receiver of a trailer hitch. 
Most will move up and down, which makes it easy to use. A hitch-mounted bike rack can be secured to the vehicle by looping a cable through the eyelit, or attaching a pin lock.
Trunk Rack
A trunk rack gets attached to a vehicle via metal brackets that are secured tightly on the edge of the trunk lid. When the lid is closed, it locks it in place, preventing anyone from stealing it.
That doesn't mean that someone couldn't lever out the brackets out of the edges of the trunk. 
However, that would damage the body paint and the trunk itself, which your insurance would most likely cover. 
The best part is you can still open and close the trunk easily, even when the bikes are on it.
Roof Rack
A bicycle roof rack is highly versatile. Most come with several locking systems that keep both the rack and bike in place. 
The most secure one that comes to mind is the Yakima FrontLoader Bike rack. The racks are designed to fit specific vehicle models and lock in place with a key.
The front loader mounts also lock the bike securely in place. In fact, you can't remove the bike rack from the vehicle unless you have the key. 
That said, many people in biking threads and Reddit threads have said the locks are cheap and can be picked easily. 
How To Prevent A Bike Rack From Being Stolen?
No matter what type you have, if someone wants to steal it, they will do it. The only thing you can do is make it more difficult for them to steal than someone else's that is similar to yours. 
Below are some things you can do to make it harder for someone to steal one from you.
Pay Attention to Where You Park
Don't park all alone. One of the things that attract thieves is a car with an expensive rack that is parked all alone. 
They don't have to worry about being seen by people as they work on stealing the rack system. 
Always park where other bicyclists are parking. Someone will be less likely to mess with your vehicle if you're parked in a designated parking area surrounded by other vehicles. 
Use A Cable Lock
Most people use a cable lock while their bikes are in transport. A lock helps protect their bikes from being stolen while on the bike rack. 
However, many companies sell bike rack locks that will prevent the rack from being stolen. Before buying one, find out what type of locks, cables, and other accessories you can buy to prevent this issue. 
For instance, eTralier provides security straps for truck-mounted bike carriers. 
Use Wood 
According to this thread, a truck-mounted rack can be secured with a cable and a block of wood. 
Basically, you attach a piece of cable to a block of wood and string it through the cable that attaches to the rack. 
The piece of wood prevents the trunk from being opened, and no one can remove the rack.
Remove The Rack
Suppose you have an SUV or one that fits on your trunk. Consider removing it and putting it in the trunk or hide it inside your vehicle. 
The downside is if someone sees you hiding it inside the vehicle, they can break into your car to steal it. 
What To Do If Your Bike Rack Gets Stolen?
First, don't panic, because it's not going to do you any good. Instead, ask around. Maybe a good samaritan saw what happened and videotaped it with their cellphone or took down the license plate. 
People nowadays are quick to video record everything, so it's possible that someone has evidence they can share with you. 
Next, you'll want to file a police report. They'll want to know the brand, model, and possibly the price. If someone did record a video, be sure you share it with the officers.
Depending on the state you live in, felony theft is considered anything in value from $500 to $1000. 
Although the chances of them finding your property, it's still worth filing a police report, especially if you plan on filing a report with your auto insurance. 
Finally, you will have to call a friend to help you get your bikes home. 
If you don't have anyone to call, then you'll have to take the tires, handlebars, and seat off to get it to fit in your car.
Final Word
Bicycle racks are not stolen as often as bicycles themselves. This is because most are secured with cables, locks, and other safety features to prevent theft. 
That said, nothing is theft-proof. If someone wants to steal your bike rack, they will find a way to do it. 
The only thing you can do is take precautionary steps to ensure it is as secure as possible. 
Hopefully, the steps above have shown you what you can do to prevent yourself from becoming a victim of theft.