The worldwide pandemic has had a surprising silver lining, with the bicycle industry benefiting from an influx of exercise enthusiasts looking for ways to get outside and explore. Bike racks will likely also see growth in this period as people have been getting out more often on bicycles. If you're a cyclist, you may have wondered, "do Greyhound buses have bike racks" making it easier to tour cities?
Do Greyhound Buses Have Bike Racks?
Unfortunately, Greyhound never got the memo. Not only do they not have bike racks, but Greyhound policy is to place your bike in a box. You heard that correctly, a box. Any box will do, even cardboard. 
A total of twenty-two states have now made provisions for the buses in their public transportation systems to be equipped with bike racks. So basically, if you live in the city, you have bike rack options with bus transportation.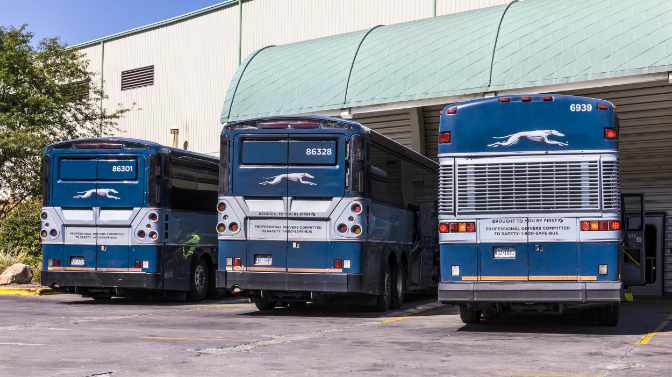 Greyhound's decision—or lack thereof—is especially battling considering that Greyhound operates in every single major metropolitan district in the country, where bicycles are extensively used.
What Passenger Buses Do Have Bike Racks? 
Out of Greyhound's major competitors, only the National Railroad Passenger Company has bike racks in its baggage cars, and that service is limited to specific stations. 
Yolobus: If you're a bike enthusiast living in California, you're in luck. Yolobus has bike racks and limits one bicycle for each passenger up to a group of three.
DART Buses: Des Moines, Iowa residents will be happy to know that DART has bike racks, a limit of one per passenger.
Public Transit: Nearly every major city in the U.S. utilizes bike racks on their public transit buses.
The list is pretty small. You will have to research your local public transit system to find out if their buses have bike racks. Also, these buses are the local variety, fit for bike-carrying travelers in very specific areas of the country. 
Outside of the limited scope of the National Railroad Passenger Company, no national passenger bus service has bike racks. As it stands, Greyhound has no plans to add bike racks to its buses. 
Can You Take A Bike On A Greyhound Bus?
As mentioned above, Greyhound will allow you to take your bus on the bus. However, it's not as easy as just taking the bike on the bus with you. Instead, the bike will be counted as oversize luggage and will cost you an extra $30 plus tax or more, depending on what state you're in. 
How To Prep For Greyhound Travel With No Bike Rack
Unfortunately, the only way to transport a bike on a Greyhound bus is to box it, and boxing means disassembly. So here's what you'll need to do:
Disassemble your bike: This usually calls for removing the seat, handlebars with stem, both wheels (quick-release skewers come in handy), and the pedals. Once it's broken down, you'll have to fit it securely in a bike box or traveling case.
Call Greyhound and local bike shop: Call Greyhound ahead of time to see if they sell bike boxes at their terminals, or call your local bike shop to see if they have one. Not every terminal will have one available, depending on demand and location.
Pay the fees: Greyhound charges $30 for any luggage over 50lbs. Purchasing a bike box at the Greyhound terminal will cost an additional $10 if there are any in stock.
Purchase case for your bike: This part is optional and expensive for the hard shells, but it may be worth the extra money if you require frequent transportation with your bike.
When it comes to disassembling your bike, quick-release skewers are lifesavers. Simply pull the tab lever, withdraw the skewer from the center of the wheel, and drop the wheel off of the frame.
It seems unreasonable to put up with all of the headaches and pay a fortune for a Greyhound ticket, but it's your only option if you want that bike ride.
Can You Use Your Bike Case On A Greyhound? 
Bicycle enthusiasts who travel frequently will often purchase a bike case, and Greyhound buses accept them like any other luggage, albeit with a $30 overweight baggage fee to go with it. 
If you're used to long-distance travel and experiences at disassembling your bike, purchasing a bike case is a sensible option, and there are plenty to choose from:
CyclingDeal Bike Bicycle Air Flights Travel Hard Case: This case was designed for bikes with up to 29″ frames. Wheels make traveling easier, so you don't have to carry them.
Thule Round Trip Transition Bike Case: The Thule Round Trip is made from ABS material and aluminum and flips up into a work table. It's definitely in the expensive category but a solid, long-lasting case regardless.
Pelican 1690 Case: This case is crushproof, designed with polypropylene, waterproof, and dustproof. It's a large case and bulkier than the others. The wheels, made from steel ball-bearings, help offset the size and bulk of the case.
There is also a large variety of standard bags designed for bicycle breakdown and travel. They are far less expensive than the hardshell cases yet are still designed with durability in mind. 
Aophire Folding Bike Bag 26 inch to 29 inches: Holds bikes with a 26 – 27.5″ frame with only front-wheel removal required.
Buds Road bag Bike Travel Bag: It is made with durable, eco-friendly material and holds up to 29″ bike frames.
Erasky Bike Folding Travel Bag Bike Transport Bag 26 Inch: A Waterproof bag designed to hold up to 26″ bike frames and features a strap for shoulder carrying.
Huntvp Folding Bike Bag: The Huntvp is designed for foldable bikes and has an additional shoulder strap for carrying. The foldable bikes are smaller in frame size, up to 20″. 
Thule RoundTrip Pro XT: Last but not least is this Thule monstrosity built out of synthetic nylon. It's technically a soft and hard case hybrid with an integrated bike assembly stand for working on your bike.
Benefits Of A Quick-Release Skewer
The quick-release skewers help you break down your bike quickly for routine travel or necessity. It's designed to insert into the wheel's hub for your bike's frame to bolt to. 
Sure, you're not likely to be in a hurry to break down your bike as you're preparing to travel. However, the quick-release skewers simplify the process, making the whole ordeal a little easier.
Chooee Quick Release Skewers Front: Rear Set for Mountain Bike or Road Bike: For traveling cases or bike boxes, there often won't be a need to remove both wheels, but it's always good to have the option.
CYSKY Bike Axle Quick Release Skewer: This package includes the front and rear skewers and the axles for both. 
Hestya Quick Release Rear Wheel Skewer Road Mountain Bicycle: For the "always be prepared" bike enthusiast, this set includes three skewers for the front end and three for the rear.
With the quick-release skewers, you'll always have it easy when it comes to breaking down your bike and getting it ready to travel. Greyhound may not be bike rack friendly, but you'll be prepared for any eventuality. 
Will Greyhound Install Bike Racks In The Future?
Greyhound isn't likely to make any changes in the bike rack department anytime soon. It's an enigmatic stance to take, especially with the recent growth in bike sales and how much of Greyhound's business takes place in areas where bike use is high.
Long-distance travelers who own bikes are stuck with a baggage provision that's been in place since 1975. That doesn't say much about Greyhound's ability to change with the times. 
Despite the lack of bike racks on Greyhound buses, bikers can shoulder on by taking advantage of products designed to make bicycle transportation easier, such as bike cases and quick release tools for simplified disassembly.
Final Word
In conclusion, Greyhound buses do not offer bike racks on their buses, but that does not mean that the company is not interested in accommodating its bikers. They currently provide a baggage provision that allows bikers to carry their bikes, like an oversize baggage option.
There are also products available such as bike cases and quick release tools for simplifying the disassembly process of bicycles.
Articles You May Be Interested In
Sources
Mike (n.d.) Bikes On Greyhound: Can You (Or Can You Not) Take Them On?