I'm looking to buy a new mountain bike to exercise, but do I need a women's specific mountain bike? What are the differences between men's and women's mountain bikes?
Do I Need A Women's Specific Mountain Bike?
No, all bikes are considered unisex and the only difference between men's and women's bikes is the difference in size and fit. There was a time when you were expected to ride a women's bike, because it was the right thing to do.
Those days are over. Today, mountain biking is becoming more popular with women, so it's possible to fine a better bike.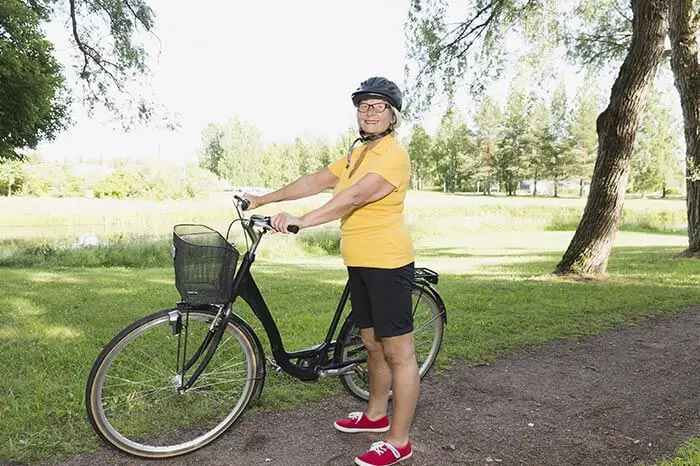 The biggest differences in "women-specific bikes" as well as "unisex" bikes are narrower handlebars, shallower drops on road bikes, slimmer grips, gender-specific saddles, and shorter cranks.
Women's Bikes Have Changed
In the past female riders didn't have a whole lot of options when it came to riding bikes. Bike companies that made women's bikes usually focused on colors (pink, purple). This usually worked as the feminine bikes always sold.
Today, bike companies are focusing on making "mens" and "women's" bikes obsolete and focus instead on unisex bikes.
Whether you're a beginner, don't have a big budget, never had a bike, I'll share what to look for when shopping for a bike.
It's All About Fit for Women
The most important thing to consider when shopping for a new bike is how does the bike fit your body frame? If a person is 5 feet tall and weighs 120 pounds, will need a different bike than someone who is 6 feet eight inches tall, weighing 220 pounds.
Whichever bike you go for, it's worth getting a bike fit to ensure you get the right bike. Many bike shops offer this service, so be sure you ask.
Here's the most important factors to consider when shopping around.
Design
In general, women are shorter than men, have longer legs, shorter torsos, narrower shoulders, and longer legs. Therefore, women-specific bicycles are designed to cater to these physical differences.
If you're like me, you don't like the way women's bikes look like. I'll also explain some of the other differences between men's and women's.
Frame
The "step-through" frame on women's bikes was developed back in the 1800s and early 1900s. The main reason is that women rode their bikes with long dresses.
Today most women's, unisex, and some men's bikes still have a "step-through" frame.
Since women have a shorter torso than men, you can expect a women's bike frame to be smaller with a shorter top lube. Women also have weaker core muscles, which means we develop less power to weight than men.
A lightweight bike will make it easier to control, which will give you confidence.
Besides, a lighter bike will be easier for you to pick up and place on your car bike rack, without asking for help.
Saddle
You'll be spending a lot of time sitting on the saddle, so it's important to find one that is comfortable for you. This doesn't mean you need to get a women's seat with the cut-out channel.
But, it's important to know that not all seats are unisex. A good saddle will support the sit bones without putting too much pressure on the soft tissue.
Most women's bikes come preinstalled with a women's specific saddle, but it may not work for you. Every person is unique and a comfortable saddle for one person doesn't mean it will work for you.
Yes, there are things you can to do make your bike saddle more comfortable, such as adjusting the height, ensuring it has the right tilt, and etc. Read this post on how to make the bike seat more comfortable.
Many local bike shops will help you find the right saddle that is the best fit for you. I'd recommend testing out gel, padded, and other types to ensure you get the right one.
Stem
Many unisex and women's bikes have a top tube that is too long. Women tend to do better with shorter stems because of their short torsos.
You won't be able to put a lot of weight on the front wheel to get the most from a long stem, which may affect your stability at high speeds (such as going downhill).
It's possible to buy a new stem for your bike, but ask the bike shop if they can do it for you before you leave.
Cranks
The crank is the component of a bicycle that connects the pedals and powers the drivetrain. Cranksets are available in three formats single, double, and triple.
The type of crankset you choose will depend on the type of riding you do. If you plan on doing a lot of cross-country (XC) racing, you'll want a lightweight crankset with a ride range of gears. While leisure bike riders will most likely opt for long-lasting chainrings and bearings that are protected and sealed from the elements.
Bicycle cranks come in many different sizes from 160mm, 165mm, 170mm, 172.5mm, 175mm, 177.5mm. A lot of women will need a shorter crank to get the best fit from their bike.
Having the right crank length will improve your comfort, power, and aerodynamics, which makes riding much more pleasurable.
Handlebars
Mountain bikes have wide handlebars that are meant to give you greater stability and control on rough terrain.
Many bike shops will let you test ride the bike, so take it out and make it's comfortable while holding the handlebars. Test out the brakes and make sure it's not awkward to change gears or squeeze the front and rear brakes.
Getting a bike with the wrong handlebar size will only lead to discomfort in the shoulders and can even make it hard for you to control.
Suspension
Modern mountain bikes come damper or coil or air spring, which makes up the suspension system that is used to help the biker have control over rough terrain.
Mountain bikes usually have a fork and a shock suspension. This may sound confusing, but here's a great video that explains what bicycle suspension is.
Yes it's possible to upgrade your suspension later on. However, if you're unsure of the type of suspension you'll need, consider the type of riding you plan on doing. If you don't plan on riding off road trails today, you might in the future as you become more physically fit.
Can A Women Ride A Man's Mountain Bike?
Yes, I know this is aa silly question, but there are still people who think that women shouldn't ride a man's bike. If you prefer a man's bike, you can ride it.
Heck, a man can even ride a women's bike if they choose to. It's a free world and as long as you own the bike, it's yours.
What's The Best Women's Bike For Me?
Buying a new bike can be both exciting and frustrating, as there are so many different options. Should you buy a hybrid, mountain, cruiser, cargo, road, electric and etc. I'd recommend getting a bike fit and find out which bike works for you.
Opt for a bike that is sturdy but lightweight with dual suspension. A lighter bike will be easier to handle on off-road trails as well as on the pavement.
Final Word
Some people love women's specific bikes, while others prefer riding men's bikes. Don't feel like you need to buy a women's specific bike because you're female.
Instead, test out different types of bikes to see which one works for you. Get the one you're comfortable with, regardless of what anyone says. After all, you're the one that's going to be riding it!