You've been wanting to ride your bike with your girlfriends, but not sure what to wear. Everyone seems to be wearing bike clothing, this makes you wonder do I need special clothing to ride a bike?
Do I Need Special Clothing To Ride A Bicycle?
No, as long as you wear clothing that is comfortable, fits properly, allows you to move, has padding, and is made from the right fabric, you'll be fine. This doesn't mean you should ride your bike in jeans.
It does mean you don't have to spend a lot of money on bike clothes. That being said, there are some advantages to wearing the right clothing when you start bike riding on a consistent basis.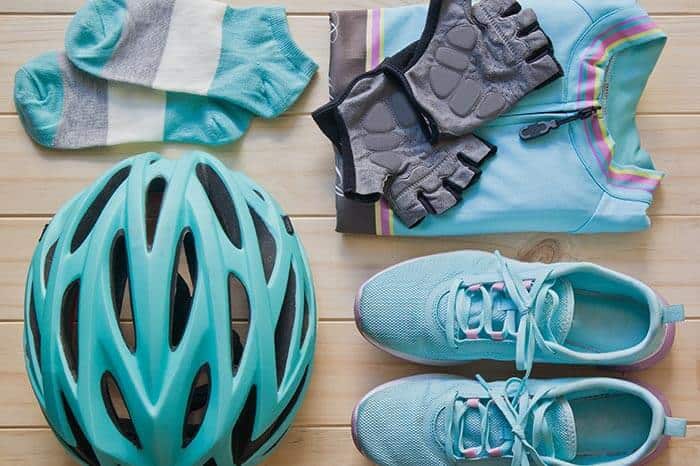 Why People Wear Bike Clothing?
If you're riding your bike on a short trip to the grocery store, you don't need any special clothing. However, if you're like me who rides your bike 15-20 miles four times a week, it's vital to wear the right clothing.
Here's some of the main reasons so many bicyclists choose to wear bike clothing.
Comfort
Your regular street clothes are fine if you're just on a casual ride with friends and the weather is good. That being said, you'll want to ensure you're prepared if the weather turns nasty.
Cycling clothing not only designed for comfort, it is designed to keep you warm and dry in bad weather.
They aren't fully waterproof, and you will still get wet if it rains heavily. You'll be much more comfortable in bike clothing than your favorite pair of skinny jeans.
Padding
One of the main reasons I love my biking shorts and gloves is because of the built-in padding. If you haven't sat on a small bicycle seat in awhile, you're likely to be sore after a long bike ride.
The extra padding in bike shorts provides an extra layer of shock absorption when going on over bumps or just sitting too long. Everyday shorts and pants don't provide that extra padding and aren't designed for long bike rides.
Biking gloves have built-in padding that helps provide some cushion for your hands when you're holding onto the handlebars. When riding 10 or more miles, you'll be happy you're wearing a pair of biking gloves.
Movement
You'll spend most of your time pedaling, so you'll want to wear pants (tights) that won't get caught in the chain. Both biking shorts and tights are often made of spandex (Lycra) which gives them enough built-in stretch that won't cause them to bunch up and cause chafing issues.
Fit
Cycling clothing is designed to fit you properly, even when you're hunched forward over the handlebars. Cycling jerseys are designed to fit snugly without cutting off your circulation. They also have a long rear that will fit your body snugly even when hunched over the bike.
If you prefer wearing a t-shirt, consider wearing an Under Armor or Dri Fit short that is tighter than your usual workout t-shirt.
Bike shorts are tighter than ordinary shorts, but the stretchy spandex material allows for freedom of movement.
Bicycle clothing should fit close enough to your skin to help wick sweat away and avoid chafing, but not so fitting that it shows off your six pack abs.
Body Temperature
No matter what type of biking you do (mountain, road, commuting, etc.) it's important to find the right type of clothing that will help keep you cool on hot days, or warm on cold days improves breathability, and can even incorporate UV protection from the harmful rays.
Bicycle clothing is made with a wicking fabric that lies against your skin to help wick the sweat and transport it to the clothing's exterior to help evaporate it quickly. The bike gloves have a soft padding top that allow you to wipe away moisture from your forehead while riding.
Design
While this isn't a huge issue, many people like to show off their sense of personal style with the clothing they use. The great thing is there are literally tons of different types of bike clothing for both men and women available on the market today.
Efficiency
Unlike your everyday clothing, cycling clothing is designed to help you go faster without exerting too much energy. Choose aerodynamic clothing that fits snugly and doesn't flap in the breeze.
Regular running shoes have a rubber sole that has to flex over the pedals, which requires more energy. Cycling shoes are designed with a stiff sole to help conserve energy and relive pressure from the pedals while you're pedaling.
What To Wear On A Bike Ride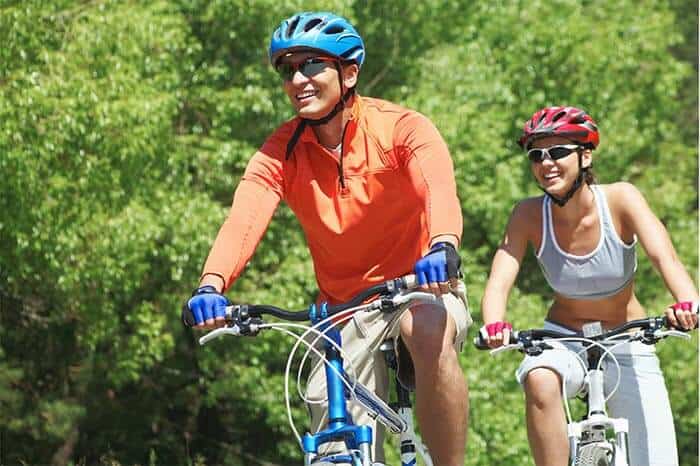 Most people reading this article aren't trying to win a bike race or even ride 40 miles in a day. Maybe you're just trying to get some exercise and you enjoy riding your mountain bike on the trails or on paved bike paths (which is what I do).
In that case, you don't have to dress like Kate Courtney, one of the top women cyclists in the United States.
That being said, I do believe that every biker male or female should wear while exercising on your bike.
Bike Helmet
Depending on where you ride, there may be laws requiring you to wear a helmet. At the time of this writing, there is no federal law in the US that requires the use of bike helmets. You can check the bicycle helmet laws according to each state here.
Regardless of whether it's a law or not, this is one of the most important pieces of protective gear any biker can wear. Not all bike helmets are created equally, so make sure you do your due diligence before buying one.
When getting a helmet, make sure you get one that fits well. A properly fit helmet can be the difference between having sufficient protection in case of an accident or not.
Bike Shorts or Bibs
The bike saddle is not like your sofa where you can spend the whole day sitting comfortably.
Even a well-padded bicycle seat suited to your pelvic shape will lead to some discomfort when you've been biking for over an hour.
Cycling legwear comes in several different styles and lengths such as; three-quarter lengths (aka knickers), shorts for warm weather, and full-length tights designed for cold weather.
All of the above will keep you comfortable on your bike and in certain weather conditions. Some people will enjoy bibs vs shorts, while others would rather ride in tights.
All are meant to stay in place and prevent chafing, so you can't go wrong with whichever you prefer.
A good pair of padded biking shorts can help relieve the discomfort and make for a better ride. They can be the difference between whether or not you continue riding or store your bike in the garage forever.
Cycling Jacket
The weather can change at the drop of a dime, so you'll want a small compact jacket that can be stowed in a rear pocket, if the bad weather clears.
If you're riding on a cool autumn day, a windproof jacket or gilet, which provides you protection from the wind is essential. Again, opt for a lightweight jacket that can easily be stored in a rear pocket.
Socks and Bike Shoes
Biking socks are thin and fit snugly because bicycle shoes do not accommodate thick socks. Not only that, but they are made out of synthetic material which helps wick moisture and dries quickly if you get caught in the rain or go through puddles.
As mentioned above, bike shoes will provide comfort and improve your performance due to the thick soles. This is a must-have if you're going to riding long distances on your bike.
Mitts or Gloves
Mitts or fingerless gloves provide extra cushioning for your hands, as well as protection from the cold breeze. They also provide you with the ability to wipe away sweat with the soft material on the top.
In winter, you can switch to full-finger gloves to help protect your you against the wintery chill.
Cycling Glasses
Glasses are worn by cyclists to help protect their eyes from dust, dirt, rocks, flying insects and etc. If you don't want to invest in cycling glasses, you will be fine with a pair of regular sunglasses.
I've personally found that the wraparound style tends to provide the most protection for your eyes.
Accessory Items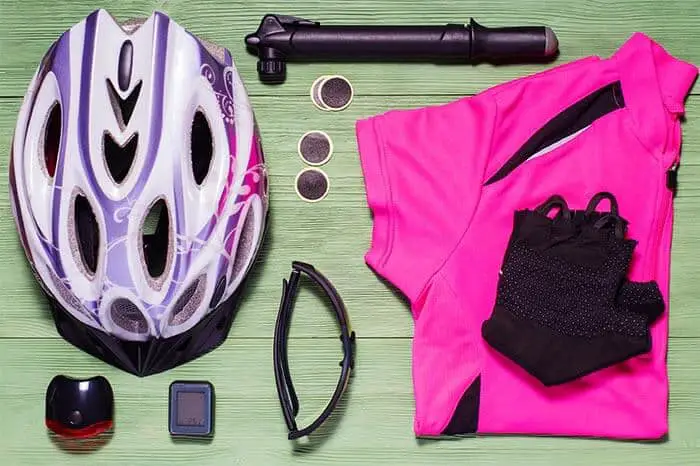 As you continue biking, you'll find accessories that aren't a necessity but may come in handy for a long bike ride.
Here are some biking accessory items you may want to consider.
Leg/Arm warmers: Leg warmers used to be big back in the day, basically, it is a fleece or wool sleeve that fits over your arms or legs to keep your exposed skin covered. Warmers can easily fit into your backpack and can be slid over your legs and arms without having to be zipped or buttoned.
Caps: Caps are completely optional, but can provide you extra protection insulation for the head in the winter. Bikers love them because they help provide shade in the hot summer sun.
Backpacks: A backpack is a must-have if you're commuting with your bike or taking a day-long bike ride with some friends. A good quality backpack is essential for every bike enthusiast. Opt for one that has waterproof features, and has reflective elements to keep you safe.
Final Word
The right clothing can make your rides more enjoyable. As long as you're wearing your helmet every time you get on your bike, you can buy the rest of your bicycle outfit slowly!
Related Articles