By 2018, ride-hailing services had gobbled up 70.5% of the ground transportation market in New York City, trouncing taxis and other services. Lyft, and others like it, has helped redefine the industry in many ways. But what are the limits of their service? Do they have bike racks?
Do Lyft Cars Have Bike Racks?
The answer is a resounding no. Lyft drivers are individual contractors. There are no company-wide mandates for carrying bike racks. You'd have to be very lucky indeed to call for a Lyft pick-up and get one with a bike rack.
That doesn't mean that the unfortunately stranded bike enthusiast is out of options or that an entrepreneur Lyft driver can't create accommodation, especially in areas where bike riding is an essential form of transportation.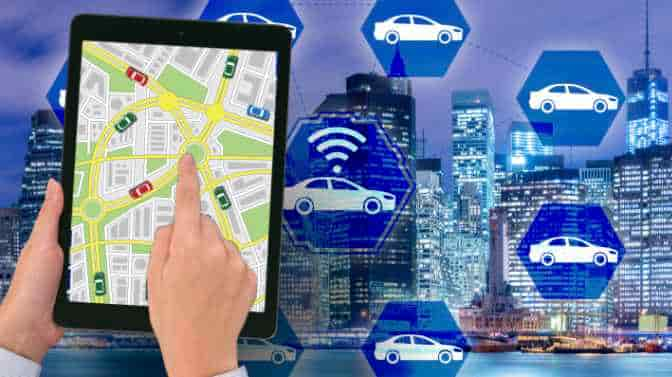 If you're wondering what your options are with Uber, then check out this post.
Can You Put A Bike In A Lyft Car?
The answer boils down to the driver. A Lyft driver is under no pressure to accommodate your bike. You can, however, choose different options and speak with the driver to see if carrying your bike is feasible. 
When you request a ride via the Lyft app (Android or iOS), you'll be able to choose the type of Lyft vehicle or accommodation you want. Below are the ride modes you can choose from:
Standard Lyft: These vehicles have a limit of 3 people, not including the driver, and probably aren't a good fit for a bike.
Lyft Line: Lyft's version of carpooling. No one is going to be happy with your muddy bike tire riding in their lap.
Lyft Premier: Not an option either, as this is Lyft's version of first-class travel.
Lyft XL: This is the Lyft ride you'll most likely want. It accommodates up to six passengers, and the driver is the most likely to accept a bike to go along with you. 
After you've selected your Lyft ride, the name of your driver and contact information will become available once a driver accepts. An option menu on the home screen will open up for contacting the driver. 
It would be courteous to call or send a text and allow the driver to accept your bike or cancel the order. You can check out the Lyft ride modes overview to get a further explanation of the different types of rides you can request.
Can A Lyft Driver Install A Bike Rack?
A Lyft driver can undoubtedly install a bike rack on their vehicles. In fact, if bike riding is a frequent hobby or mode of transportation in the area, it would most likely be a profitable advantage.
Cyclists experience breakdowns, flat tires, and other defects just like any motorist. So installing a trunk-mounted bike rack would be a cheap, potentially profitable idea for a Lyft driver. 
Plus, it would help avoid any internal, moral haggling if a Lyft customer with a flat bike tire requested a Lyft. It pays—pun intended—to be prepared. 
Of the three primary types of bike racks (roof, trunk, and hitch), the trunk bike rack is the most cost-productive of the bunch. 
Installing it is easy and straightforward, and Lyft drivers will have added an entirely new customer base, assuming they live in areas with heavy bike usage, such as New York City. 
What Trunk-Mounted Bike Racks Are Available For Lyft Drivers?
The options are endless, as there are many brands and types that will fit any standard vehicle's trunk frame. 
Allen Sports Deluxe 2-Bike Trunk Mount Rack: Highly-rated, easy to install, and wallet-friendly, the Allen Sports Deluxe can hold two bikes and fits most car models, including hatchbacks and subcompact SUVs.
Thule Passage 2: A little more expensive than the Allen Sports Deluxe, the Thule Passage 2 is nevertheless a sturdy, hanging-style bike rack that will hold two bikes and has protective cushions to protect the vehicle from potential damage.
Saris Bones EX Trunk Bike Rack: This versatile trunk bike rack fits 90% of all new makes and models. It holds two bikes and also has a three-bike variant. Plus, you can choose from a variety of different colors.
Hollywood Racks F2 Over-The-Top: Explicitly designed for SUVs, minivans, and hatchbacks, Hollywood Racks F2 comes in two and three bike configurations and secures bicycles with quick-strap connects.
Trunk-mounted bike racks are the most convenient way to accommodate bike passengers and add elusive revenue against the competition.
What Hitch-Mounted Bike Racks Are Available For Lyft Drivers?
Hitch-mounted bike racks have just as many options as their truck-mounted brethren. Unfortunately, they are generally more expensive but remain a viable alternative if you have a hitch. 
Swagman XTC2 Hitch Mount Bike Rack: It takes only minutes to assemble and is equipped with locking hooks and a hitch pin to secure it and help reduce sway. 
YAKIMA RidgeBack Tilt-Away Hitch Bike Rack: The Yakima Ridgeback is great because of its simplistic design and easy fold-down feature when you need to access the trunk, regardless of whether it is a traditional trunk or hatchback.
Allen Sports 4-Bike Hitch Racks for 2 in. Hitch: Cheaper doesn't mean less effective. The Allen Sports has a simple design with an easy setup and can hold up to four bikes at once.
Thule T2 Pro XT/XTR Hitch Bike Rack: One of the more expensive options, the Thule T2 Pro has a fold-down and up feature for easy rear access, holds two bikes, and swivels on for easy installation.
Like the trunk-mounted bike racks, hitch-mounts make excellent choices for a quality, long-lasting and reliable bike rack. 
How Do You Prepare For A Breakdown When Lyft Cars Don't Have Bike Racks?
If you're a long-distance cyclist, preparation for breakdowns is key. Bring the appropriate tools, know how to use the Lyft app, remain courteous and patient, tip well, and remember who your driver was.
Many bicycle enthusiasts are familiar with the quick-release front wheel. You can either purchase a bike with a quick-release wheel or disassemble your current front wheel and install a quick release. 
This makes things much easier for a Lyft driver, as you can significantly reduce the length and size of your bike on the fly for quick vehicle transportation. 
Utilize the Lyft app to always request a Lyft XL and access the driver's contact information. It's always advisable to give the driver a call and ensure that transporting your bike—front-wheel or no—is okay. 
Make sure to tip well. You're transporting your bike, after all, and not just yourself. This is especially true if your Lyft driver takes the time to help you load your bike.
Remember the drivers who will transport your bike without a bike rack. Be sure to ask them if you can contact them directly in case of a future mishap that has you caught far from home on a bike that's having issues.
Final Thoughts
It's a bummer that Lyft cars don't have bike racks. However, they're independent contractors after all, and it can't be expected that they'll go out and purchase a bike rack, especially if they live in an area where such calls are aberrations.
As a Lyft driver, purchasing and installing a bike rack is a good idea. There are many cities and heavily populated towns where bike riding is an everyday, day-to-day commute to work. 
There's money to be made there and possibly even a permanent customer base who know they may find themselves in need of a Lyft ride equipped with the convenience of a bike rack. 
Related Articles