One of the most terrifying things a homeowner can do is drill is drill into studs, drywall, doors, and brick. So, how do you hang a bike on a brick wall – here's how you drill into the brick without damaging the stone.
This bike storage resource page will help you find the perfect way to store your bike and get it out of the way.
But first, let's take a look at what constitutes a masonry wall.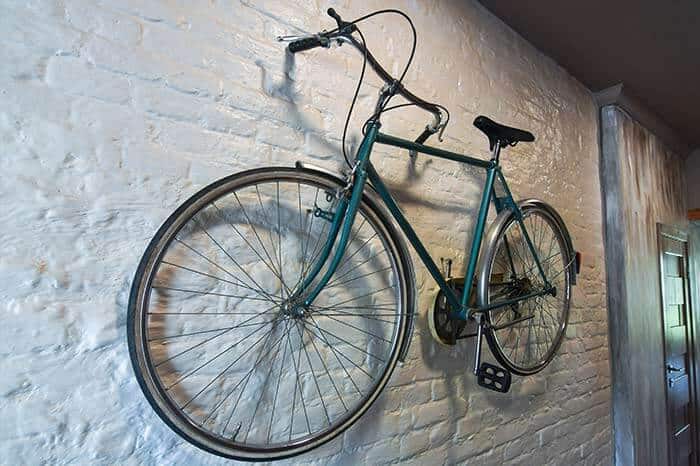 What Is A Masonry Wall?
Masonry is the word that is used to describe walls made of stone or brick. It's not always easy to know what type of walls you have. Some people think they have a brick or stone walls, when they actually have brick or brick veneer walls.
Solid brick walls are feature two rows of brick and are load-bearing. Brick veneer walls have only one row of bricks and are non load bearing.
To hang heavy objects on solid concrete, tile or brick, requires special techniques and tools. For lighter items like childrens bicycles you can hang them using a plastic wall plug.
How Do You Hang A Bike On A Brick Wall?
To hang heavy objects on a brick wall, you'll need a hammer or regular drill, anchor screws, and bike rack. An anchor screw looks like a regular screw, but it has an extra set of raised threads that grip and cut into very hard surfaces like brick or concrete.
If you're hanging pictures, mirrors, or other objects, you can use brick clips or brick hangers to hang your items.
For something as heavy as a bicycle you'll need to drill into masonry wall and use wall mounted bracket to hang your bike vertically or horizontally.
Once you know how to drill into brick or concrete, you can hang your bike above the mantel or anywhere else without damaging your walls.
How To Hang Something From A Brick Wall
What you need:
Protective eyewear
Regular drill
1/4 masonry bit
Masonry drill
Impact driver
Anchor screws
Bike rack or hook
Instructions
Measure and mark the spot you're going to be drilling into the wall with a Sharpie. Measure at least 4 inches off the floor or ground.
If you're concerned with drilling too far into the wall, wrap some electrical tape at the bottom of the masonry drill bit so it won't go any further into the wall.
Put on your personal protective equipment (eyeglasses).
With the drill perfectly level, start drilling straight into the wall. Don't keep constant pressure on the bit, and avoid wiggling it around as this will cause the hole to be wider than it needs to be.
Use a regular drill to screw a Tapcon or anchor screw into the holes.
Best Bike Mount For Brick Walls
Look for a wall mount or hook that says it can be used on masonry or concrete walls. Most will be constructed of durable aluminum, steel or a heavy-duty material.
The Ibera Horizontal Bicycle hook is ideal for use on masonry walls and drywall or plasterboard if drilling directly into wall studs. It has great reviews on Amazon and it can help you get your bike off the floor.
There is a 39.6 pound weight limit, so measure your bike before buying.
The adjustable arms allow you to adjust the mount to the width of the bicycle's handebars. This will prevent the bike from being too close to the wall and damaging the paint.
Use the included Allen key tool to loosen the bolts, and pull down the two arms to lock them into place.
Rest the bicycle frame evenly over the arms. Use the included velcro strap to stabilize the front wheel, to the frame to prevent the bike from swaying back and forth while it rests on the wall.
Hanging The Bike Vertically
To hang your bike vertically by the front wheel, opt for a vertical wall mount hook. It should have a anti-scratch rubber hook over the metal hook, to prevent scratching the bike rim.
Many vertical bike hooks are stong enough to hold kids bikes, mountain bikes, folding bikes and etc.
Hanging Without Drilling The Wall
Hang From The Ceiling
If you don't feel comfortable drilling into your beautiful concrete or brick walls, you can consider hanging the bike from rafters.
Unfortunately, you'll still have to drill into the ceiling, but you won't have to worry about damaging your brick walls.
Here's how to install a hoist or pulley system to hang your bicycle.
Strong Adhesives
While these are usually used for pictures, mirrors, or art, stronger adhesives are available on the market that are designed to carry heavier loads. Naturally, this isn't the safest option for your bike, so you may wan to get a professional opinion on the best adhesives to use.
You may not be able to use the adhesives to hang your bike, but they should be good for hanging bicycle accessories.
To get started, you'll need to prepare the surface. Measure your bike and use a Sharpie to mark the spots where you'll attach it to the wall. Use a level to ensure your bike doesn't sit crooked on the wall. Once you attach the adhesives, you can't remove them without damaging them.
Wipe the area clean, there should be no dust, or debris and the wall should be dry. After the area is dry, apply the adhesive material and make sure it can withstand the weight of your bike.
Search the online cycling forums for recommendations on the strongest adhesives you can use for hanging a bike, as they'll know what types to use.
You might be better off drilling into the wall and patching the holes if you ever move.
Frequently Asked Questions
Can You Use Command Hooks To Hang A Bike?
No, command hooks are adhesive hooks that require finished surfaces (paint, wood, tile) to work. The strongest jumbo hooks holds up to 7.5 pouns, which isn't strong enough to hold a bicycle.
Can You Patch Holes In A Brick Wall?
If your apartment has brick walls you can easily patch the holes before your lease ends. You'll need a utility knife and silicone caulk. This video will walk you through the steps of how to do it.
Final Word
You will need a few specialized tools, but you can screw into brick walls to hold any item you want, even heavy bicycles.
See if you know anyone who has managed to hange a bike on brick without having to drill. Ask them what they used and how they did it, this will help you hang yours without having to drill.
Check out this tutorial to follow the steps for hanging a bike on drywall.