Before you get your new bike, it's important to think about how you're going to store it. Even if you have a small garage, you can use these storage solutions to help keep your bike safe from falling over and getting damaged. Let's take a look at some of the different options on how to store your bike in the garage.
But first, stop by our bike storage page for both short-term and long-term storage ideas.
How To Store Your Bike In A Small Garage?
Whether you hang your bike up or leave it parked on the ground will determine how much space you have, bike weight, wheel size, and which storage solution takes up the least amount of space.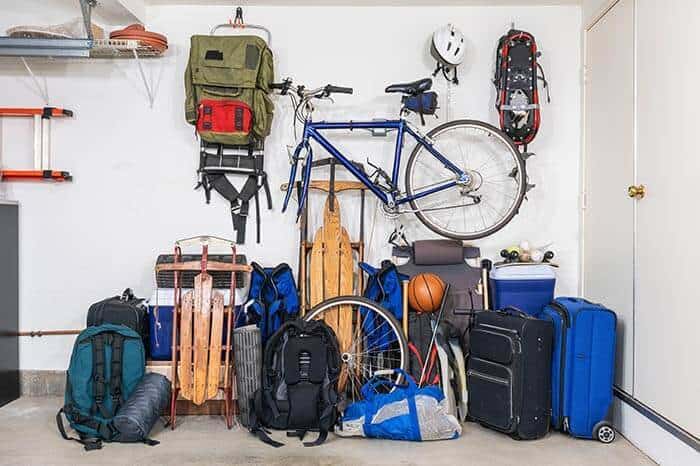 Even if you have a single car garage that doesn't seem like you can pack one bike, much less multiple bikes, if everyone in your family owns a bike. The last thing you want is to trip over the bikes when you're looking for something in the garage.
Effective bike storages allow you to reclaim the space in your garage while keeping your bike safe from thieves at the same time protecting it from the harsh weather conditions. Here are some tips on wintering a bicycle to prepare it for long term storage.
*This page contains affiliate links to products I recommend. If you purchase something from this page, I may receive a small percentage of the sale at no extra cost to you.
What Is The Best Way To Store My Bike In A Garage?
Your garage, like any other room in your home can become cluttered in a matter of weeks, especially, when you have children. This room gets filled with one (car), tools, toys, outdoor equipment, wood pellet grill, patio furniture, sports equipment and etc.
With so much clutter, it's hard to believe that you can make room for your bike.
There are many ways to store a bike in a garage, but before we go through each solution, here are some things to consider.
Bicycle Make and Size
Before you can decide which storage method will work, you need to take into consideration your bike's size and make, weight, tire size and width, disc brakes, and fenders, as they may not fit with every solution.
Many bike storage systems limit the bike tire widths to accommodate their racks or floor parking racks. The type of rack you use to store a mountain bike will differ from someone who has a road bike with thin tires.
Here are some of the most common adult and children ISO tire sizes, but you should still measure your bike's tires before buying a bike storage system.
| | |
| --- | --- |
| Tire Size | Type of Bike |
| 26 inches (ISO size 559) | Modern mountain bikes and hybrid bikes |
| 27 inches (ISO size 630) | Older road bikes |
| 27.5 inches (ISO size 584) | Mountain bikes |
| 29 inches (ISO size 584) | Mountain bikes |
| 650B (ISO size 584) | Specialized and Randonneur bikes |
| 650C (ISO size 571) | Smaller road bikes and Triathalon bikes |
| 700C (ISO size 622) | Modern road bikes |
| 16 inch (ISO size 305) | Kids' BMX |
| 16 inch (ISO size 349) | Recumbent |
Here's a more comprehensive list of bicycle tire sizes and ISO measurements.
Once you have your tire sizes, you want to ensure the position of your bike's brakes, and fenders won't be damaged during the storage.
Bike Storage Goals
Now it's time to decide how much of your space you're willing to lose in your small garage. Do you have enough space in on your floor to store one bike or multiple bikes? Do you plan on riding everyday?
If so, then you'll want a storage solution that makes it convenient to get access to your bike without having to climb over all the clutter.
The Best Way To Store Your Bike In A Small Space
These methods will work for a single, double or bigger garage. If you have a single car garage, you may need to get a little creative to organize your garage so your bikes fit.
#1 Wall Mounts
These are great for small spaces because it keeps the bikes in one space and off the floor. This garage storage rack is perfect and has 8 racks to hold multiple bikes. It comes with everything you need to install it, and if you ever move, you can take the hooks and storage system with you. Click here to check the price on Amazon.
This may may or may not work for small garages, it depends on the type of vehicle you drive. If you drive a small Prius, you should be fine, however, not so much if you drive an SUV or truck.
#2 Wall Hooks
Wall mounted hooks can be used to hold bikes either vertically or horizontally. In a small garage, you'll likely save more space hanging them horizontally. Some racks even have a hook for your helmet.
There are literally several types of bike hooks that make it easy to hang your bike on the wall like a piece of art. I'd recommend investing in heavy-duty hooks that can hold the weight of your bike. Also, look for some that have a rubber covering, so they don't scratch your bike.
#2 Floor Rack
While this method works best if you have a bigger garage, but it can work if you don't have a lot of clutter or you clean out your garage. This family-friendly bike storage rack is perfect, and it also has an organizer on top that is perfect for holding the bike helmets, gloves, and water bottles.
This method works best if you have little ones around the house. You will still have to help them take their bike off the rack, but they'll have somewhere to put their bike after riding instead of leaving it on the garage floor.
Floor stands are available in several different sizes and if you're a handy person, you can simply build your own DIY bike rack, there are several YouTube videos online that will walk you through the process. Many custom racks are made out of PVC, which is lightweight and can be moved around easily.
#3 Hoist Bike Storage
If you don't have any space available on your walls or the floor, then it's time to to look at the real estate on the ceiling. Hoist bike storage systems make it easy to lift your bike off the ground and keep them safe.
Do your due diligence as some models will require a minimum ceiling height and weight limit so be sure you know those measurements.
#4 Electric Lift
This is similar to the pulley system, but it is more sophisticated as it allows you to hang your bikes off the ground with the push of a button. The Racor Garage Ceiling Storage Rack Lift makes it easy to adjust to any ceiling and holds up to 250 pounds.
If you ever sell your bikes, you can use it to store other items in your garage to get things off the floor.
What If I Don't Have Any Room?
If none of these options work and just don't have the room, unless you leave the car out in the elements, the next best thing to do is store your bicycles in an outdoor shed or building.
It doesn't have to be anything fancy, just something to keep your bike protected from the elements and locked away. You can buy a pre-built shed or build your own, it's not as expensive as you think.
The best part is it'll give you more storage space, which every homeowner always needs.
Final Word
Congrats on your new bicycle purchase, hopefully, these tips will help you store your bike safely in your small garage. It may take some time to find the right solution for you, you may even have to hold a yard sale to get rid of some of that clutter.
But once you find the right storage solution, you'll be happy that your bike is protected and will provide you and your family with several years of enjoyment. Here's how to store your bike in an apartment.