Bike Riding is one of the most popular ways to enjoy the outdoors and stay fit. You should try to ride your bike around 2 to 3 times per week. While this varies based on your level of fitness, you will see significant increases in your gains by riding your bicycle up to 3 times a week.
There are many bicyclists who enjoy riding 3 times per week. It is very invigorating, but you must grasp the pros and cons of riding weekly.
We will look at ways that you can enjoy the pros of riding your bike weekly, along with the cons. First, let us look at whether you should ride your bike daily.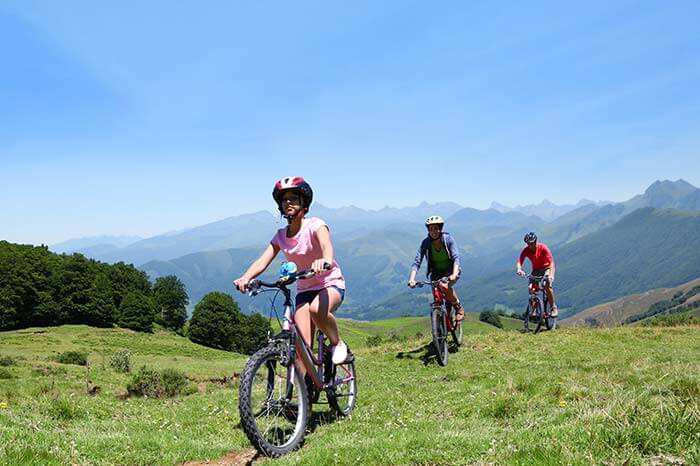 Should I Ride My Bike Daily?
Before you begin your weekly bike riding routine, here are a few things that you should take into consideration.
Skill Level
No matter if you are a newbie(Skill Level 1) or a pro(Skill Level 9), you can enjoy riding your bike weekly. There are ways to enjoy a good bike ride as a newbie, and this is one great way to stay fit. You should plan your weekly bike rides by taking your skill level into consideration.
Ask yourself, do I feel safe riding this often per week? Have I had issues riding my bicycle recently?
While any of these can apply to the bike rider, it is important to make sure that there are no major issues that could worsen from prolonged bike riding. In the event that you injure yourself, be sure to contact your physician immediately.
If you have experienced any of the above difficulties riding your bicycle, then you should seek assistance. There are many groups that offer bicycle lessons to riders who need additional help. If you find yourself getting injured often when you ride your bicycle, then you may want to consider taking bicycle lessons.
Distance
For the beginner, you should try to ride your bike at least for 1 hour per week. If you can handle riding on a flat terrain at a relaxed pace, then you are making progress! Although riding multiple times per week may be too much for now, you will get better as time goes on.
When you are planning your next bike ride, remember that you have to consider your return trip as well.
Experiencing Pain
Many report feeling a slight pain in the saddle when bike riding. This can be attributed to a misaligned seat (here's how to make your seat more comfortable) or the bike rider wearing loose clothing.
By wearing clothing made for bicyclists, and having a proper seat, you can enjoy riding without pain.
If you ever begin to experience pain, ensure that all of your equipment is in check and up to par. Make sure that you wear tight fitting clothing rather than loose when riding regularly.
How Many Times A Week Should You Ride A Bike?
As we have stated above, there are many pros and cons to riding your bike weekly.
Pros
Comfort
Choose a bike with a comfortable seat and layout that will suit your needs. Wearing the proper clothing based on season is a benefit to comfort as well. When you need a break, be sure to take one, and start again when ready.
Weather
While riding in the summer months can seem attractive, there are many dangers to prolonged activity in the heat. Stay hydrated during the summer months, and be sure to keep full water supplied during your ride.
During the winter months, you will need to stay insulated. The cold weather can cause you to feel the most of the cold. Staying insulated ensures that your body doesn't lose excess heat while riding during cold temperatures.
Freeing Feeling
There is a freeing feeling when you can take a bike ride during the week. After work, or as an early morning regime, bike riding relieves stress a great deal.
Take your next bike ride sooner than later, and you will feel the freedom of the open trail. Riding weekly is a great way to stay in shape as well.
Cons
Prone To Injury
This can be one of the reasons why riding your bike during the week can be hazardous. If you are not using proper foot protection, you can run the risk of injuring your feet.
From callouses to cuts, these are some things that can happen to you if you are not careful when riding your bicycle. There are many ways that you can prevent this from happening by wearing the proper bike riding footwear. You can look at some of the many cycling forums that are online that will discuss the importance of proper footwear.

You should avoid riding with open-toed shoes, or barefooted. There are many objects that can harm you during your weekly bike rides if you are not alert and cautious.
Weather
Anytime you take a bike ride, you can run the risk of running into a change. A storm may come about, and you wouldn't want to get stuck on the trail during a bad one. Think about checking your local weather forecast before riding to insure safe weather patterns.
Slippery terrains can cause dangerous bike riding conditions. If you ride your bike 2 to 3 times per week, you run the risk of encountering a day of bad weather. Stay safe and make sure you are prepared for your weekly ride.
Terrain
If you are in an urban area, you should be able to find safe bike lanes and parks to ride on. Don't worry if you cannot, because there are locations all over that are inviting to enjoy a good ride at.
If you need to find a good trail to get your week going, then do a quick search on Google for local biking trails. Your 2 to 3 week bike trek will be very enjoyable if you are able to change your locations.
Don't just settle for the same place, find new and exciting places to enjoy your next bike ride.
Bike Maintenance
If you are a rider, you should always ensure that you keep your bike up to maintenance standards. Keep your chain and drivetrain clean and free of dirt. If you are a trail rider, brush and other debris may get tangled into your bike chain. Make sure that you always check your bike before you start riding.
Keep your nuts and bolts tightened and ensure that your tires are inflated. Following these tips will make you have the safest bike ride possible. With weekly riding, it is important to check your bicycle throughout the month.
How To Enjoy Your Weekly Bike Ride Safely
Riding your bike weekly can be dangerous when you are not following the above guidelines. Follow these tips to stay safe when riding your bike during the week:
Ride according to your level of skill
Check the weather before you plan your ride
Follow bicycle maintenance procedures and standards
Search trails that are safe and easy for you to navigate
Wear the right shoes for your terrain
Stay aware and ride safely!
Tips For Beginners
For the beginner, it may be interesting to take on a mountain trail for your first ride. This may not be a good idea since it is more of a chance for injury. If you are just starting out on weekly rides, find somewhere level, or smooth for your first 2 to 3 weekly bike rides.
Biking In The Rain
Riding in the rain is not unheard of, actually it is pretty fun! The rain can be an invigorating ride, and call for some big splashes as well. Rain is safe to ride in, as long as you ride at a reasonable speed and avoid thunderstorms.
If you get caught in a thunderstorm, you should stop riding your bicycle and find shelter immediately. Bikes are made of metal and that is not safe when considering the lightning.
Find you a great trail and get down to some good riding. If you ride a good trail 2 to 3 times per week, your health benefits will reflect that as well.
Weather During Bike Commute
As stated above, it is very important to always check the weather before your bike ride. If the report calls for unsafe conditions, try to choose a better day for riding.
If you take the time to find the proper conditions, you have a much better chance of enjoying a safe and fulfilling bike ride.
Final Word
Many people ride their bikes more than once a week. Some people use their bikes as a way to commute to and from work, others bike ride because they want to lose weight, exercise, or spend time with the family.
No matter why you want to ride weekly, these tips will help you stay safe and healthy so you can enjoy your rides!