No one wants to store their bike outside, but unfortunately, you may not have a choice. So how do you store a bike outside and keep it from deteriorating quickly?
Storing a bike can be challenging, especially, if you don't have a lot of living space. We've put together one of the best bike storage resources page to help you out.
How To Store A Bike Outside?
Make sure you use any of the following to keep it protected from the elements: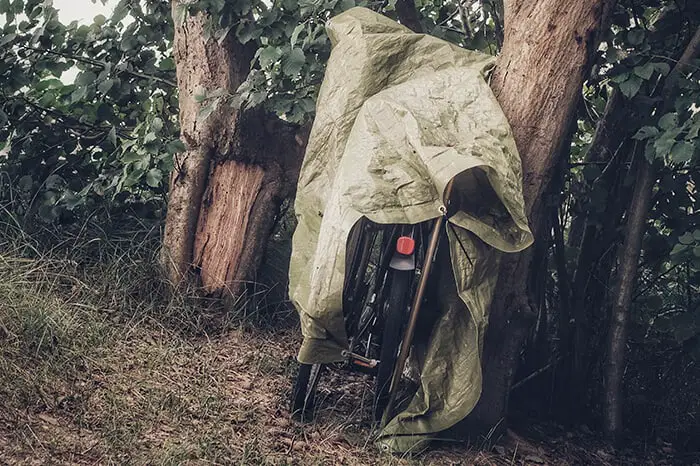 Waterproof seat covers
Bikeshed
Vehicle bike covers
Bike tent
Outdoor bike cover
Tarp
Some of the methods above will work better than others. We'll explain each one in detail and what to expect when you use the method.
Where To Store A Bike?
Whether you have a mountain bike, e-bike, road bike, or any other type, it's best to keep it indoors. Indoor storage will keep it protected from the harsh weather elements.
Leaving your bike outside for a couple of days isn't a huge deal, as long as it is secured with a good lock.
But what happens when you don't have that extra space, and you end up having to store your bike outside?
Effects Of Storing A Bike Outside
How long will it take for your bike's components to start showing rust? This site explains all the different components on a bike.
The answer will vary depending on several factors.
Not all bikes are created equally, and the weather will affect each one differently.
Chain: High-end bicycles have stainless steel chains that won't deteriorate as quickly as a lower-end bike.
Seals: On an older bicycle, seals can become less effective over time. Bicycle seals prevent water and moisture from the wheel hubs, bearings on the bottom bracket and headset, and other drivetrain components such as derailleur, cranks, cogs, chainrings and etc.
Rubber and plastic: Overtime the rubber parts such as the tire, inner tube, rim strip, the cable housing, bicycle seats, brake hoods and etc will break down from the exposure to the sun and humidity.
Steel frame: With a steel-framed bike, seal any scratches, dents, or nicks in the paint as they can cause the bike to rust over time.
Aluminum frame: If your bike has an aluminum frame, protect the steel parts such as the cables, gears, chain, and bolts and etc.
Higher-end bicycles have higher quality parts and will last longer outside. This doesn't mean that you shouldn't provide some type of protection for it.
How To Prevent Your Bike From Rusting
The best way to prevent your bicycle from rusting is to avoid leaving it exposed to the outdoor elements that can cause it to rust. But, if you have no other option, your next choice is to find the best outdoor storage solution.
You want something that can withstand the rain, humidity, snow, high winds, and other elements that can be harsh for your bicycle.
Let's take a look at some of the options available.
#1 Bicycle Sheds
If you're lucky enough to have a yard then a bike shed is the best option for storing a bike or multiple bikes for families.
Bike sheds can be purchased in metal, plastic (vinyl or resin), or wood and they have their own advantages and disadvantages.
The plastic Suncast shed is perfect for protecting bikes, power equipment, ladders, and other outdoor equipment. It is built with a durable multi-walled polypropylene resin panels that can withstand any of the outdoor elements.
You can buy a lock to secure the shed to keep your bikes safe from thieves.
One of the biggest downsides is bicycle sheds are expensive, but they can last for several years, and if you move you can take it with you.
If you're handy with a drill, then you can even make your own shed.
#2 Bicycle Tents
If you don't have space for a shed, then you may want to consider getting a bike tent. If you live in an apartment, you may need to ask your landlord if there are any rules against having a bike tent.
Tents come in many styles and shapes, and you'll want one that is made of high-quality material, features, and portability. A good quality tent can provide protection from the rain and snow, as long as you get one that is rainproof.
Bike tents are affordable and easy to assemble and extremely portable.
The downside is you won't be able to secure your bike while your bike is fully enclosed.
#3 Bike Covers
A comprehensive bike cover is perfect for long-term storage. This type of cover will consist of durable and waterproof material with stretchable straps to secure around the bike. The cover will protect against moisture, harmful UV rays, and dust.
#4 Tarp
Some people have had success using a heavy-duty tarp to build a shelter over the top of their bike. Wrapping the bike with the tarp will create a pocket of moisture that can ruin your bicycle.
If your bike doesn't have a kickstand, you may want to consider buying an outdoor bike rack so you can stand it up and secure it with a lock.
Tarps are cheap and can be purchased from the local hardware store for less than $20. Make sure it can withstand strong winds so it doesn't tear easily.
#5 Waterproof Seat Cover
An elastic cover protects your saddle, from wind, dirt, rain, and the sun. Most will have a drawstring to keep it secured on windy days. This cover will protect your seat from cracking.
The Karetto and Cevapro seat covers come highly recommended, but they come at a cost.
If you don't have a seat cover, then tie a plastic shopping bag around the bikes seat post to protect the saddle from the sun's destructive UV rays.
The downside is this only protects your saddle and leaves the rest of the bike exposed.
How To Prepare The Bike For Outside Storage
Whenever you store your bike for the winter, it's important to winterize your bicycle. If you're storing your bike outside, you don't have to worry about winterizing it as you'll need to get a tune-up in the spring.
However, this doesn't mean that you can just put your bike outside and leave it neglected for several months. If you want to keep your bike in the best shape possible, here are some things you can do to maintain it while it's being stored outside.
Keep it dry: Whenever your bike is exposed to any type of moisture, dry it with a towel to help prevent rust.
Monitor your seals: Before the bad weather comes, consider getting new seals for your bike, especially, if they are older than five years. This will help prevent moisture from ruining your bike's frame and components from the inside out.
Check the tires: Properly inflated tires protect your bike's rims from the hard ground. Invest in a portable air pump and check the tires at least once a week.
Grease the cables: Before storing your bike outside, lubricate the braking and shifting cables to help reduce the buildup of oxidation, which can impact how they work.
Clean and lubricate the chain: Remove all dirt and grime from the chain and keep it lubricated to help protect it from the moisture.
Remove rust: Inspect your bike at least once every two weeks and remove any signs of rust immediately. WD-40 and other lubricants can help keep your bike protected. This video will show you how to use white vinegar and Coca Cola to remove it with aluminum foil.
How often you inspect your bike will depend on the weather conditions you live in.
If you live in an area where it rains and snows a lot, you should check your bike after every rainfall, or at least once a week.
Securing Your Bike
Another thing to consider is keeping your bike secured while storing it outdoors. Bicycle thefts are on the rise, and a good quality bike lock to keep your bike safe.
Something like the Sigtuna 1200mm steel chain bike lock can deter potential thieves.
Secure your bike to something secure, not a chain-link fence.
Consider Taking It Inside
Even if you don't have room on the ground or the wall, you can consider hanging it on the ceiling. Storing your bike on the ceiling can seem impossible, but it's not that hard to do.
Of course, you can't hang your bike upside down or vertically, if it has hydraulic brakes. But there are several ways to hang a bike on the ceiling that can work for any type of bike, even mountain bikes.
Frequently Asked Questions
Can I Store My Bike Under An Awning?
An awning will help your bike, but it won't protect it completely. Instead, consider an enclosed storage option for the best protection.
Final Word
After being stored outside, you'll want to give it a complete tune-up before using it again. Many local bike shops offer this service and the prices will vary from shop to shop.
The cost will depend on the type of tune-up your bike needs. Tuneups will vary from Basic Tune, Full Tune, Deluxe Tune, and Complete Overhaul. The level of tune-up you need will depend on the condition the bike is in after being stored outside.
Related Articles