Not everyone who owns a mountain bike wants to go off-road, they'd rather ride on the street. After all, a bike is a bike, right? These bikes are built for more rugged trails but is a mountain bike good for street riding?
Is A Mountain Bike Good for Street Riding?
Yes, even though it won't perform as well as when you ride it on bike trails, you can ride it on the street (pavement, sidewalk, and etc). Of course, the type of mountain bike you have will determine how much harder you will have to work.
That being said, cross country bikes are much easier to ride on the road.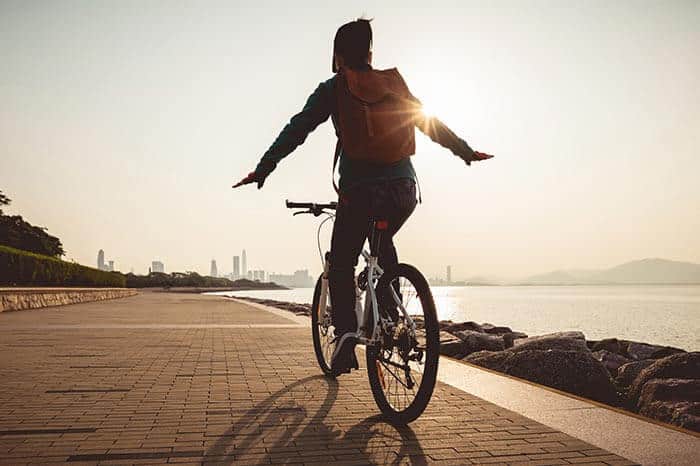 If you're using your bike to commute long distances, I'd recommend an adventure bike or a hybrid bike. I'm going to assume that you're just riding your bike for exercise, and won't be riding for more than 10-20 miles when you ride.
Before I share why it may take more energy to ride an MTB on the road, let's take a look at the differences of a road bike and an MTB.
*This page contains affiliate links to products I recommend. If you purchase something from this page, I may receive a small percentage of the sale at no extra cost to you.
What Is The Difference Between A Mountain Bike and a Road Bike?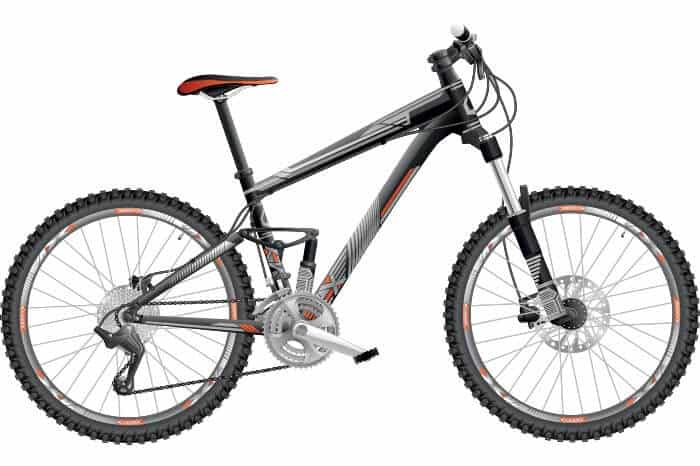 Road Bikes
Road bikes are just that, they are built only for the hard surfaces (pavement, roads, streets). They have a lighter and more aerodynamic frame to help you go fast! They have "drop bar" handlebars to allow for better body position to make going faster easier.
The thin firm tires have less contact on the road, meaning less friction and more speed for you.
Mountain Bikes
Mountain bikes are rugged machines with beefy frames, flat and wide handlebars, wider knobby tires to give you more control on narrow dirt trails, potholes, and rugged terrain.
Is It Bad To Ride A Mountain Bike On The Road?
No, riding your mountain bike on the road won't damage anything on your bike. These bikes are rugged and can handle pretty much any terrain. That being said, they are designed for dirt bike paths, so riding it on the road (sidewalk, pavement, concrete and etc) will cause them to wear faster.
Riding on asphalt will cause the center of the tread to wear faster than that of the tread along the edges. However, some bike trails have very rough conditions that can wear your tires quickly as well.
In my experience, I'd ride wherever you feel most comfortable and just replace your tires when that time comes. After all, you can ruin your tires when you run over a sharp rock on a trail or a piece of glass on the road.
Benefits Of Riding A Mountain Bike On The Road
One of the great things about riding a mountain bike on the roads is you won't have to worry too much about potholes, loose pavement, branches, and rocks. While you want to avoid running over anything that can make you lose your balance.
It's nice knowing that if you do hit a pothole it won't hurt the bike. After all, mountain bikes are built to absorb impact from roots, rocks, potholes, and other rough terrains.
If you're riding on the street and you accidentally hit a pothole, or wet leaves, you most likely won't lose control, your bike's suspension will just absorb it and you'll just keep on going.
Mountain Bike Performance On The Road
For someone who is just using the bike to exercise, won't notice a huge difference when riding a mountain bike on the road. However, if you're riding long distances on the road, you're going to notice the mountain bike takes more effort.
Here's why it takes more work to ride an MTB on the road:
Heavier: The added weight of the front suspension, beefier brakes, and bulkier frame will make the bike heavier causing you to pedal harder, especially, when going uphill. The best part is you're likely to go really fast downhill.
Tires: The wide tires mean they have more contact with the ground, which causes more friction which requires more energy from you.
Frame: All mountain bikes (hybrid, trail, cross country, and etc) are designed with heavier frames made to withstand rough terrain. This added weight will be noticeable when riding on the road.
Fitness: Your weight and fitness will make a huge difference in how much harder you will have to work on the mountain bike. The great thing is the more you ride your bike on the road, the easier it will get.
Can I Put Road Tires On My Mountain Bike?
Yes, it's totally possible to replace your mountain bike tires with road bikes. However, you may want to consider buying a dedicated road bike, because the geometry of a road bike is better suited for the roads than today's mountain bikes. Here's a website that walks you through on converting your mountain bike to a road bike.
That being said, if budget is an issue, you may want to take your bike to your closest bike shop and have them swap out the tires. You're likely going to have some issues fitting the road tires and the right cluster to fit the drive train.
How To Get Your Bike Ready For The Road?
As mentioned, be prepared to work a little harder, but having the right pressure in your tires can make riding a little bit easier. Make sure you put more air in your tires, 40 to 50 PSI will make a big difference.
Another thing that helped me is lifting the handlebars to change your body position. This helps reduce the strain on your neck and shoulders while riding your bike. I recommend installing the WAKE MTB Stem (Amazon Link for price), which allows you to adjust the stem easily and quickly.
The best thing you can do is make the bike as comfortable to your body, this alone will make your bike rides easier and more enjoyable.
Quick Tips For Riding Your Mountain Bike On The Road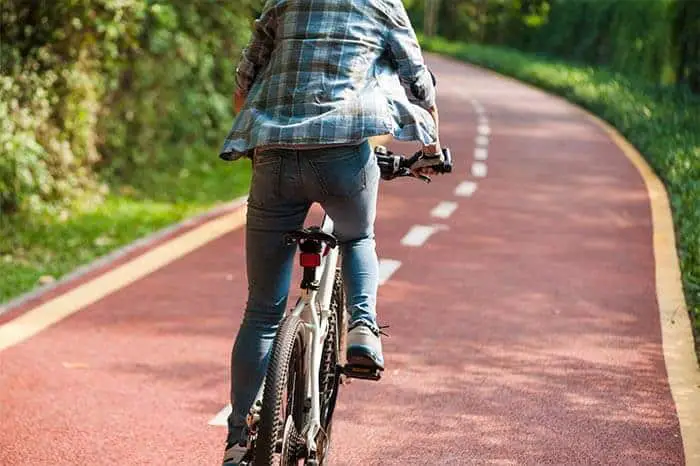 Now that you're ready to take your mountain bike out on the road, let's take a look at some safety rules to keep you safe.
Wear A Helmet
Whether you're riding on the street or dirt path, you need to wear a quality helmet. It should fit properly to ensure it provides the most protection, in case you fall off your bike.
Bike Light
Make sure you have a good quality bike light you can use if you get caught out in the dark. You may also want to consider using the bike light during the day to make you more visible if you're riding in a heavily trafficked road.
Tires
Make sure you check your tires before every bike ride, to ensure they don't have any damage. If they are damaged, make sure you repair them before going on your ride.
Clothing
You should wear proper bicycle clothing such as padded bike shorts, gloves, knee pads and etc. Don't take your bike on the road while wearing everyday clothing, as that will just make it harder for you.
Related: Do I Need Special Clothing To Ride A Bike?
Ride With A Friend
Riding with a friend is not only safer but is more enjoyable. There's nothing wrong with riding alone (I do a lot of times) having a friend with you will make it easier to ride on the road.
Best Mountain Bikes For Street Use
If I was buying my bike today, I'd personally get the Schwinn Discover Hybrid bike for men and women. I personally love the fact that it has an aluminum frame that makes it lighter and great for both off-road and city riding.
The 21-speed SRAM and Shimano rear derailleur makes it much easier to tackle the hills. If you're the kind of biker who loves riding on the roads, but also enjoy dirt trails, then click here to check out the Schwinn Discover Hybrid on Amazon.
Final Word
Many people ride road bikes on the road and I'm one of them. A bike is a bike and as long as you get one fits you, you'll be fine.
The best part about having a mountain bike is you get the best of both worlds!