You enjoy the exercise you get from your daily bike rides. What you don't like is how much space those bikes are taking up in your small garage. This issue has you thinking – what is the best way to hang a bike, and what are my options?
There are several ways to hang a bike and we'll take a look at all the different options to help you find the right one for you, we'll even cover some floor storage ideas to see if that works for you. Check out our bike storage page for more tips and ideas.
What Is The Best Way To Hang A Bike?
The best way to hang your bike will vary depending on the type of bike you have, brake system, weight, and space you have. Here's how to hang a bike on drywall the right way so it doesn't fall.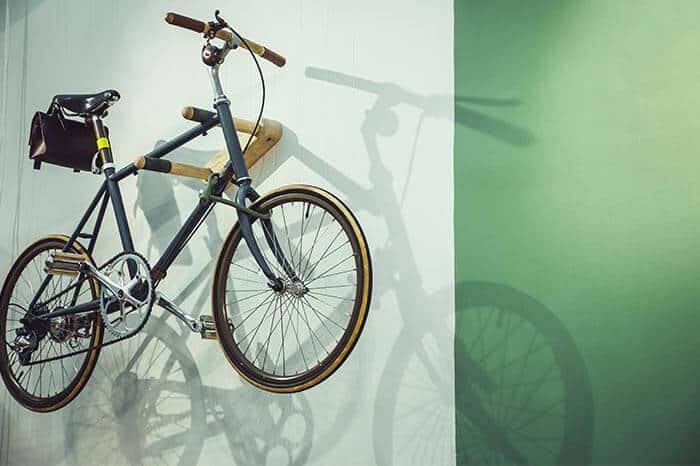 Bikes with hydraulic brake systems should be hung horizontally, while bikes with rim brakes can be stored using any method that works for you.
There are many practical bike storage ideas which include:
Ceiling hoist
Zero Gravity Racks
Vertical wall racks
Horizontal wall racks
Bike wall hooks
Ceiling racks
We'll cover each method in complete detail to help you understand what they are and help you determine which one may work for you.
But first, let's take a look at what to consider when considering bike storage.
*This page contains affiliate links to products I recommend. If you purchase something from this page, I may receive a small percentage of the sale at no extra cost to you.
What To Consider With A Bike Mount
Space: If your garage doesn't have more space than the width of the handlebars, your only option may be to hang it vertically.
Bike weight: The heavier your bike, the more strain it will place on the wall. A lightweight 15-pound carbon bike will be easier to store than a hybrid bike that can weight about 28 pounds.
Wall construction: Are your walls made of sturdy wood or week sheetrock or plywood? You don't want to hang the bike up and have it tear down your wall in the middle of the night.
Floor protection: Bicycles accumulate grease, dirt, and grime, from riding. You'll want to choose a hanging location that is easy to clean and doesn't leave stains from your bike. You may want to consider putting an exercise mat under your bike to protect your floor as this person on Reddit did.
Braking system: If your bike has hydraulic bikes, go with a horizontal bike mount.
Cost: Last but not least, your budget will play a huge part on the type of bike storage you choose. Bike storage options can vary from $20 – $500 or more.
Floor vs Hanging
Floor
If you have enough space in your garage, shed, or basement, you can store your bike on the floor using the kickstand or buying a floor rack.
This can be a great option if you have a heavy bike and don't want to lift it after every bike ride, or if you're not comfortable hanging your bike from one wheel.
We've covered many ways to store a bike without hanging it up.
Hanging
Most cyclists choose to hang their bikes because it's a practical way to organize their space and it keeps the bike safe from accidental drops and dings.
But with so many different ways to hang a bike, it can be so confusing as to which method will work the best. Don't worry, we'll cover the different options you have and some of the best hanging bike racks, mounts, and hoists.
Vertical vs Horizontal
Vertical means the bike is your bike is hanging from the wheel in a straight up and down angle from the ground. Horizontal means your bike is parallel or runs straight across on the wall like a picture hanging on the wall.
There are many online debates about which method to use to hang your bike, but that's not what this article is about. Instead, we're going to check out all the different ways to store your bicycle off the ground.
6 Bike Storage Ideas
#1 Vertical Bike Rack
A vertical bike rack allows you to maximize your wall space and park your bike. These racks can be used for single or multiple bike storage.
These work best when they are hung in an unobtrusive corner, as they protrude from the wall.
Vertical bike racks work best if you have a big garage, as a vertical hanging bike will take up too much space and you may not be able to park your vehicle in the garage.
This method also works great if you have a shed, just make sure your shed is ventilated with an air gap above the window to prevent it from rusting.
#2 Horizontal Wall Racks
If you have the wall space, I highly recommend choosing this horizontal bike rack. it's perfect for the garage or basement and it holds multiple bikes. The J-Hook helps keep the bike secured tightly so you don't have to worry about your bike falling in the middle of the night.
Many people prefer horizontal bike racks because the weight is distributed evenly during storage, so you don't have to worry about damaging your bike by hanging it from the wheels.
Although, most bikes will be fine if hung by the wheels, unless it has hydraulic brakes.
#3 Simple Storage Hooks
Don't want to spend a lot of money on bike storage? Many people use basic bike hooks, which can be very cheap.
The downside is it can be difficult to find the right size for your tire as they come in many different styles and designs.
Storage hooks will work best in either your cellar or garage, as you'll be installing into a beam on the ceiling.
You'll want to find hooks that have rubberized ends to prevent it from damaging your bicycle. The hooks should have no more than 2/3 of threaded diameter to attach directly to the wall.
These heavy-duty bike storage hooks are perfect for storing your bikes on the ceiling.
#4 Double Hook Hang
These bike hooks are meant to store your bike by the front wheel upside down. The double hooks are usually coated with PVC plastic to prevent it from damaging the rims.
They differ from the single hanging hook as they have an adjustable double hook to provide your bike with more support. These hooks are constructed with heavy-duty steel and have a non-slip PVC coating that are perfect for hanging in the garage, shed, or any cold area as they will not rust.
#5 Ceiling Rack
Saris has developed a rack that allows you to hang multiple bikes upside down from both wheels, which makes it very durable. It's not a cheap option [Amazon}, but it can be a great option if you don't have any space on your garage floor and can support up to 4 bikes.
#6 Ceiling Hoist
The ceiling bike hoist is the perfect solution for garages or any other indoor space where you don't have the floor space to store your bike.
It keeps your bike elevated off the floor and it helps protect your bike's tires. The Vivohome Heavy Duty Mount Bicycle Storage Rack has a 125lb capacity that can hold bikes, kayaks, or canoes.
I like that the hooks have a rubber coating that will protect your bike against scuffs or slipping. The safety locks prevent accidental release which can cause injury or damage.
Many ceiling hoist racks will have a maximum weight capacity and max ceiling height, so be sure you check before buying one.
What Is The Best Way Store A Bike?
The best way to store your bike is what works for you. What works for someone, may not necessarily work for you. As you can see, there are several bike storage ideas that will work regardless of whether you own a road bike, mountain bike, e-bike or etc.
You can find tons of YouTube videos and inspiring ideas on Pinterest that will help you come up with some ideas.
Find out what works for you in your life, I recommend starting out with some wall hooks or the horizontal wall rack.
How Close Can You Hang Bikes?
19-21 inches should be plenty of room between the bikes. This will allow plenty of space so you can remove a hanging bike without damaging the others.
It's important to allow the same space for both kids and adult bicycles. This will make it easy to upgrade your kids' bicycles without damaging or having to drill new holes in the studs.
Are Bike Hooks Bad For Bikes?
Final Word
There is no universal bike storage that fits everyone. The way you store your bike will depend on how much money you want to spend and the allotted space you have.
I've shared several bike storage options with you, hopefully, you're able to find one that works for you and keeps your bike protected from theft and the elements.