I love doing my biking exercise early in the morning, the downside is that it's now staying darker later in the morning. So I've decided to buy a bicycle light but what should I look for in a bike light? After doing some research, I finally decided on the right one for my circumstances and I'll share what you should look for before you buy.
What Should I Look For In A Bike Light?
The bike light should be bright enough to see and be seen, hold a charge for several hours, offer different modes, have a good battery life, fit your budget, be easy to mount, and be waterproof. We'll discuss this in further detail below and I'll also share which bike light I purchased for my bike.
*This page contains affiliate links to products I recommend. If you purchase something from this page, I may receive a small percentage of the sale at no extra cost to you.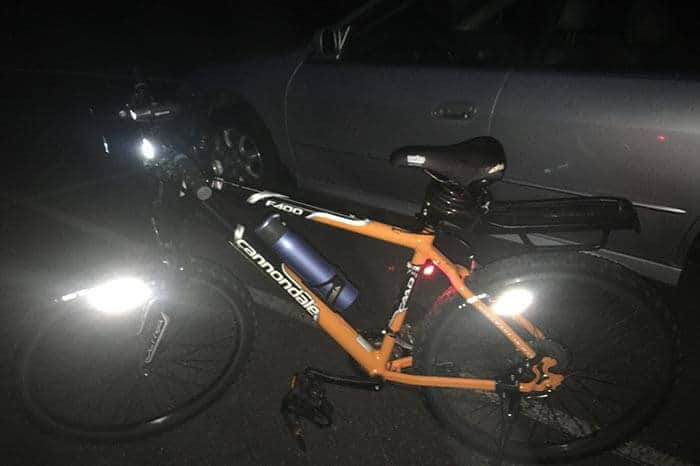 What Is FL-1 Certification
Unfortunately, all bike light manufacturers can claim whatever terms of how many lumens their lights have. A light with the FL-1 certification on the box means it has the number of lumens stated.
The FL-1 Standard is a testing protocol that is used to measure a light's run-time, brightness, and water resistance/impact. If you see an FL-1 certification, you can be more confident in the bike light you're buying.
Light & Motion was the first company that adopted this certification. Today, this is the highest rating commuter bicyclists constantly look for before making a purchase.
Do You Need An FL-1 Certified Bike Light?
Only if you want a light that has been certified through the FL-1 Standard testing. If you're a hobbyist bike rider like me, your main concern is being able to be seen in the neighborhood, trails, or wherever you ride.
If you're looking for an affordable FL-1 certified bike light, I highly recommend you check out the CECO-USA 1,000 Lumen bike light that uses the Labsphere's NASA-grade integrating sphere to make your bike rides bright. You can check out the price on Amazon. (I'll share the exact light I have on my bike below)
Just make sure you angle your bike light downwards so you don't blind people on your bike rides.
Brightness of Beam
Most people tend to believe they need the brightest light when riding a bike. Ideally, you want one that is bright enough to see and be seen and isn't so bright that it will blind others.
Lights that are used to see with tend to have a greater brightness with a narrow beam angle that allows you to see into the distance. They will usually have stronger battery power that enables the beam to stay stronger longer.
While lights that are used to be seen will have a wide beam that allows you to be seen from different angles. These lights will usually have wider beam angles, lower battery life, fewer lumens, and will cost less.
If you're riding bikes on a regular basis, you'll quickly realize that a bike light is a necessity for both day and night riding. A study performed by the US National Highway Traffic Safety Administration found the use of daytime lights reduced crashes involving bicyclists and pedestrians by 12 percent.
As a general rule, the higher the light output, the higher the cost.
What Bike Beams Look Like At Night
Here's what the Blitzu Gator 320 USB Rechargeable Bike Lights look like on my Cannondale F400. As you can see, they provide sufficient light for anyone who doesn't need extremely bright lights.
The best part is they are extremely affordable and will fit any budget. You get a front light and a free tail light. You'll never have to waste your money on batteries ever again. In fact, these are the same ones I've been using for over a month now!
You can see how they look in the dark, I took this picture this morning on my early morning bike ride at the park.
Different Modes
Good quality lights will provide you with different modes, such as high, low, medium, and flashing mode. The flashing mode flashes intermittently, while the other settings light steadily until you turn the light off.
There are many online debates as to whether flashing lights are safer and make you more visible. The point is, you get to decide whether you want to use a flashing or steady beam.
Many cyclists use just one light on their bike, depending on the weather conditions. The BLITZU Gator 320 (above) provides you 4 modes that will allow you to decide which mode you want to ride in.
How Long Does It Take To Charge The Bike Light?
Most bike lights will take 2-6 hours to completely charge. Of course, this depends on the type of batteries your bike lights use.
Today, most USB-rechargeable headlights use a single 18650 battery, which is 18mm x 65mm in size. This is a lithium-ion battery cell, that is the standard for replaceable and chargeable batteries.
The 18650 battery is used in a wide range of devices from camera accessories, laser pointers, flashlights, bicycle lights and etc.
It generally takes about 4 hours to charge a 18650 battery. The time it takes will depend on the USB charger you use and the age of the batteries.
The BLITZU Gator 320 (above) only takes 2 hours to fully charge. Most rechargeable lights have a "low battery" or "fuel gauge" indicator to let you know when it's time to recharge.
How Easy Is The Bike Light to Recharge?
You don't want to buy a bicycle light that requires you to be a technician to recharge. Opt for one that plugs directly into a USB outlet, your computer, or any home USB charger you may have.
Most quality bicycle lights will come with their own USB charger cable, so you don't have to worry about buying one.
Personally, I would avoid a cheap light if it runs off of AAA's or AA batteries. (I don't believe you can find those anymore?)
How Long Does A Charge Last?
Most bicycle lights will hold a charge for 5 – 9 hours depending on the mode you run the light on. This should be sufficient for you to get a few rides in depending on how long you ride in a day.
The BLITZU Gator 320 will go strong for about five 16 mile bike rides, before I have to charge it again.
Weight
Bicycle headlights can be purchased in several sizes and dimensions. Manufacturers have been working hard to make improvements to increase the light output while reducing the weight of their bike lights.
LED bike lamps are known to produce more light per watt than the older metal-halide or halogen bulbs and lithium batteries make today's lights more powerful and much smaller.
When shopping for a lightweight batter, stick with the LED lights. "See with lights will vary in weight of 150g or more and "be seen lights" can weigh as little as 15g.
Is The Bike Light Easy to Install and Remove?
Most bicycle lights will easily mount to most handlebars (front light) and seat posts (backlights). That being said if have aero handlebars, it can be more cumbersome to mount the headlight.
Most front lights are easily secured in place with a bracket, velcro, or stretchable rubber strap. Before buying a bike light, make sure it will mount to your bike, especially, if you have specialized handlebars.
The back lights will usually fit easily on your seat post and stay in place with a stretchable rubber strap.
Look for a bike light that has an easily removable feature that allows you to remove the light without removing the holder. This will prevent people from stealing your bike when you have to lock it up and walk away from your bike.
Is The Bike Light Waterproof?
You never know when you'll get caught in a heavy downpour on your bike ride.
Most bike lights are either water-resistant or waterproof. Manufacturers rate their products on the Ingress Protection scale, which measures the effectiveness of electrical enclosures from the foreign intrusion of (dirt, debris, dust, and etc) as well as moisture.
If you find yourself biking in the rain quite a bit, make sure you opt for a bike light that has an IPX rating of five or higher. The BLITZU Gator 320 has a water-resistant rating of IPX5.
Anything lower than an IPX5 means it may not hold up well in rainy conditions.
Budget
Last but not least comes your budget when choosing a bike light. The great thing is you don't need to spend a lot of money on your bike light, unless you're looking for one that is FL-1 and has a high amount of Lumens.
The bike accessories vary in price. Depending on how much you're willing to spend will determine the lumens, battery life, beam angle, easy on/off mounting, and battery life.
Here's what you can expect based on different budgets.
Under $50
This price range will offer headlights that are mostly used for "being seen." Some may or may not be FL-1 certified, so make sure you do your research. These lights will be no greater than 200 lumens, and won't be suitable if you're riding on poorly lit roads.
These will be lightweight lights that will work perfectly for someone who enjoys riding bikes in local parks, walking/riding trails, or neighborhoods. You should expect these lights to be water-resistant and easily mount your bike with a rubber strap.
Between $50 – $150
In this price range you should be able to buy a higher quality waterproof light that has 600 lumens or higher. Most will use the LED technology and will have a good battery life.
These are considered "seeing lights", which will help you see further in the distance due to the narrow beam angle. These will be perfect for poor lit roads as well as mountain biking.
Most of these higher end lights will come with a hard mount design, as opposed to the rubber stretch band on the less expensive lights.
Between $150 – $250
The higher-end models are designed for "being able to see" and will emit 1800 lumens or more. Their batteries will usually charge the quickest and hold their charge the longest.
Based on the price, you should expect them to be FL-1 certified and rank high on the Ingress Protection scale. Some will have several different features such as; DVF (daylight visible flash), several different lighting modes, boost mode and etc.
These lights are perfect for road cycling, mountain biking, and city commuters.
Which Light Should You Choose?
Unfortunately, there is no one "bike light fits all." Everyone is different and the type of headlight you get will depend on the type of riding you do, the weather, road conditions, and your overall budget.
Here's a quick checklist to help you select the right headlights for your bike.
Set your budget. There's no need to overspend on your bike accessories, so don't feel compelled to buy something you can't afford.
Do you need lights to be seen or to see? This will help determine how many lumens and the beam angle you need.
What type of mounting option does it have? Make sure it's compatible with your bike before you buy it.
Can you easily remove the light? If you leave your bike unattended for long periods of time, ensure it has a quick-release button that allows you to take the light with you. This will prevent people from stealing your bike light.
Does it run on batteries or is it USB rechargeable? USB rechargeable is preferred because you won't have to worry about spending money on batteries.
Final Word
Finding the right bike light will vary from person to person. The most important thing to consider is the brightness of the beam. You don't need a light that is too bright, but you want one that will make you visible to pedestrians, motorists, and animals at least 500 feet to the front of the bike.
Hopefully, you're able to find the right light to keep you safe on those early morning or evening bike rides!