Riding a bike is a great way to get your daily cardio in while spending time enjoying the great outdoors. If you live in a major city, you may find it easier and less expensive to get around on your bike instead of your vehicle. So where do you store your bike when you live in a small apartment in the city, without leaving it outside in the elements or risking it getting stolen?
Don't forget to visit our bike storage page for more ideas and resources that can help you care for your bike.
Where Should I Store My Bike In My Apartment?
You can store it inside, you have to make use of the limited space you have and get a little creative. Of course, some ideas will work better for others, it depends on how much space you have in your small living space.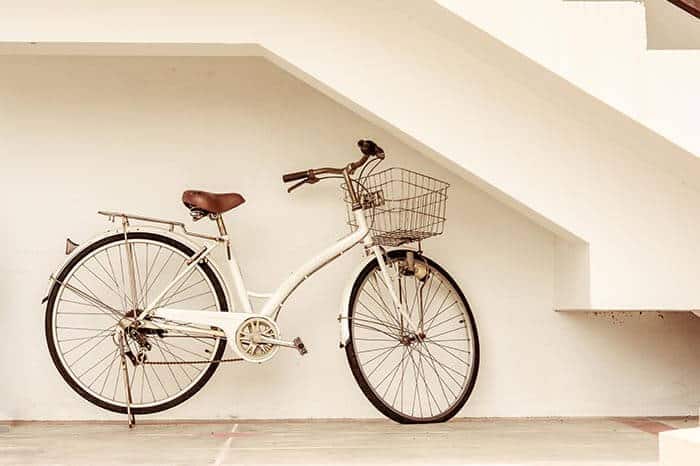 If you live in New York, you'll less space than someone who lives in an apartment in a smaller rural city.
But, most small apartments and homes range in living space from 800 – 1,000 square feet, which is plenty of space to store your bike indoors to keep it safe and in good condition for several years.
Speaking of space, you need to take a look around your small apartment, condo, or home to determine where you can store the bike for long term or short term use. Here are some of the most common places savvy bicyclists are known to store their bikes when living in small apartments or homes.
Take A Look At Your Living Space
Mudroom
A mudroom is used to store dirty shoes, coats and etc before entering your home. Most mudrooms are about 5 feet wide, which is more than enough space to store a bicycle.
You will likely still need to invest in some good quality wall hooks, mounts or a floor rack as most bicycles don't have a kickstand to stand on their own.
If your small apartment doesn't have a mudroom, you can use these ideas to create your own little storage space.
Coat Closet
If you're not lucky enough to have a mudroom, the next best place is the hallway closet. Most coat closets are located immediately adjacent to the main entry door, which makes it a great place to store your bicycle.
The width of the closet will vary depending on the size of the home. However, all coat closets are at least 28 inches deep with the same height as the ceilings. This makes it easy to hang long trench coat, without it touching the floor.
This is enough space to buy a vertical bike rack and hang your bike. You may want to consider putting some type of floor protection at the bottom of the floor, so your tires don't mess up the carpet, and lose your security deposit.
Here's how this Reddit user converted their coat closet into a bike rack using an S-hook. The downside is, you'll have to find another place for your clothes.
Patio or Balcony
Not ready to give up your closet space? Consider converting your balcony or patio to outside bike storage.
You'll need to place a lock on it so no one steals it, especially, if you live on the ground level of a single family home or apartment.
The downside is your bike will be exposed to the wind, sun, and rain, unless you're lucky enough to have an enclosed balcony. If not, cover the bike with a tarp or purchase a waterproof bike cover.
Depending on the size of your balcony, you may need to hang the bike up, so you can still use the balcony. Before turning your balcony into a storage area, make sure you check your lease to see if it is against the regulations.
Laundry Room
If you're fortunate to have a laundry room and have a stackable washer and dryer, you may have enough room to store your bike on the floor or on the wall.
The floors generally consist of tile or wood, which makes it easy to clean up dirt and scuff marks from your bike much easier than on carpet.
Unused Room
Maybe you're fortunate enough to have an extra room in your apartment that is used as your home office? If so, then you can store your bike in your home office.
I'd recommend buying a floor bike rack and putting the bike a corner so it doesn't interfere with home business duties.
This solution works great, especially, if you have more than one bike.
Hiding Behind Furniture
Don't forget to consider your large bookcase, bed frame, couch, or armoire which can be a great place for your bicycle. Just move the large piece of furniture a few inches away from the wall, and you can slide your narrow bike behind it.
The downside is the handlebars will stick out further than the furniture, which can be an eyesore if you're hiding in the living or family room where you entertain your family and friends.
Hanging On The Wall Like Art
This may be the last option, as it will likely require you to drill holes in the wall to install hardware. If your lease allows for it, and you're good with a drill, then consider installing a bike rack on your wall.
There are several types of wall mounts to choose from, that works great for small spaces. I'd recommend choosing a horizontal hanging rack as it will make your bike look like a piece of artwork.
You'll need the following tools to hang your bike on the wall.
Tape measure
Carpenter pencil
Stud Finder
Drill and 3/8 drill bit
Wall Plugs/toggle bolts
Other Options For Renters
If you have no space available to store your bicycle, here are a few final solutions to help you out.
Rent A Storage Unit
If you have too many items in your rental home, maybe it's time to consider renting an off-site storage unit so you can store some of those items in to make room for your bicycle?
Storage units allow you to temporarily store your belongings when you have limited space. The downside to this that it adds an additional $60 – $180 monthly payment on top of your already expensive rent.
The price will vary depending on the size of unit you rent, whether or not it is climate controlled. and etc.
Consider Bike Sharing Programs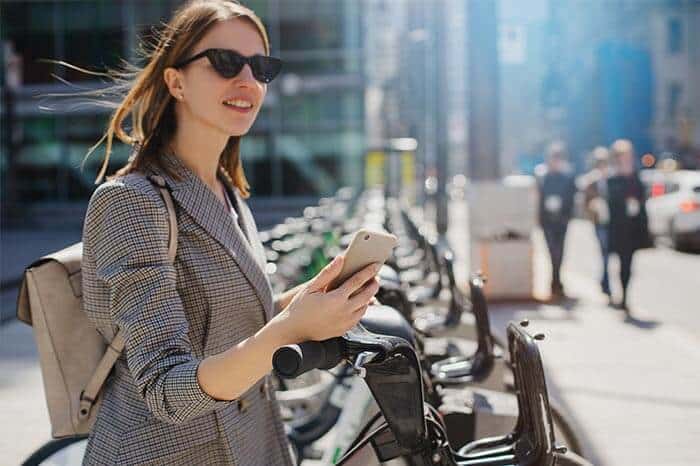 Many cities throughout the United States are now participating in bike sharing programs that make it easier for you to access a bicycle without actually owning one.
This system relies on self-service bike states that allow you to pay via credit/debit card and use the bike for the day and then return it to a nearby docking station.
The downside you'll always pay to rent it, which is a great option for some people who don't ride a bike every day.
Consider Moving
If your bicycle is your mode of transportation and you need it to get from Point A to point B, then you might need to move.
More and more people are downsizing into smaller homes or apartments because they want to experience urban living, or forego the high costs of maintenance and upkeep.
Therefore many apartment complexes in cities throughout the United States are turning unused areas in parking garages, and parking lots into ideal parking spaces.
Be sure to ask your apartment complex if they offer these types of services before deciding if it's the right place for you.
Otherwise, you may want to consider an apartment complex that caters toward cyclists. There are many luxury apartments that have bike-friendly doors and walls for their residents, making it easy to store your bicycle. Check out rent.com to see if one of these apartments is available in your city.
Final Word
Just because you live in a small apartment, doesn't mean you can't buy a bike. You may have to get creative with your storage solutions, but hopefully, these tips will help you out.
The above tips will work great if you live in an apartment, condo, or small home. Here's how to store your bicycle in a small garage.
Related Articles